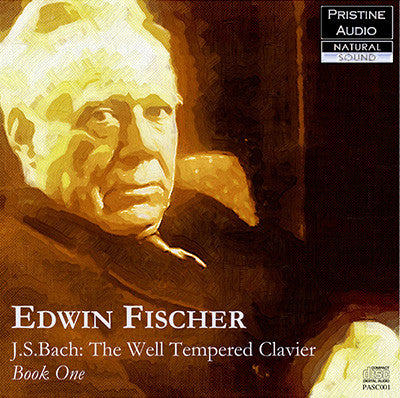 This album is included in the following set
s

:
This set contains the following album
s

:
Producer's Note
Cover Art
Edwin Fischer's classic world's-first recording of Das wohltemperierte Klavier

The recording that inspired the creation of Pristine Classical

Twenty years after the commencement of this monumental recording, Sackville-West and Shawe-Taylor, noting that this was still the only recording available in England of Bach's epic 48 Preludes and Fugues, delighted in Edwin Fischer's achievement: "quiet, self-possessed, beautifully sensitive to the great variety of moods in this long chain of masterpieces."

Their chief worry, that "the recording...is a little dim by modern standards", needs no longer concern the modern listener - these new restorations really do take the breath away and reveal the true mastery of these recordings.

Gone is the dull and, frankly, bizarre piano tone of certain other audio restorations of this recording. Here is the sound of a piano being played gorgeously by one of the 20th century's greatest pianists, in a seminal recording which still stands as the benchmark for interpreters of Bach the world over.
Andrew Rose
Bill Rosen's Review
Bach's Well-Tempered Clavier (WTC) is not a great piece of music like the "Eroica" symphony or "The Rite of Spring". Rather, it is a musical window on the pulsating field of energy which surrounds us and which we perceive as the Universe. Andrew Rose of Pristine Audio, by dint of enormous labor and artistry, has rescued this historical performance, previously comfortably residing in the EMI House of the Dead, and given it the breath of life to bring us its meaning for today's world. It reveals Edwin Fischer as a brilliant, virile, imaginative pianist fully equal to all the challanges of the Well-Tempered Clavier.

While listening to this work, I enjoyed the thought that so many great musicians have experienced the same music I was hearing. Beethoven was introduced to the work at age ten by his teacher and began his teenage day by playing several preludes and fugues. Beethoven said in later years, "it is far more than just a brook (German: Bach); it is an ocean". Mozart studied the WTC sufficiently to write new preludes for six of the fugues; one wonders why? Both Shostakovich and Rodion Shchedrin were inspired to write their own canonical 24.

The recordings available of the Well Tempered Clavier are without number. In my own collection, they range from Mieszeslav Horzowski, who recorded a few preludes and fugues at his 100th birthday concert to Albert Wong, who recorded all of Book II at the age of 10 and also wrote the program notes. I never considered Edwin Fischer more than an "historically important" pianist. I respected him for his Bach concerti, for his Beethoven "Emperor" Concerto with Furtwangler and for being the first pianist to record Bach's WTC. I can now say that, as a result of listening to Pristine Audio's restoration, that judgment is completely wrong. Edwin Fischer is a great pianist, one of the greatest pianists of the first half of the 20th century. His recording of the Bach WTC can be matched by few of the many pianists or harpsichordists of the post World-War II period. I know that this is a lot to claim; I shall try to substantiate it in the paragraphs that follow.

It is often said that keyboard technique improved greatly after WWII and that some of the greats of the past could be outplayed by today's 13-year-old girl piano student (e.g. Cortot, Gieseking). Not so Fischer—listen to his technique in Book 1: IX, XV; Book II: VI, XX. Unlike Glen Gould, his technique does not dazzle and is never obtrusive, but is always in the service of the music.

The incredible variety of color with which Fischer invests the preludes is to me unmatched: playful, innocent, laughing, pouting, sad, and on and on. There are few tempo or dynamic markings and here Fischer's great European tradition really shows in the confident and daring range of his choices, in his lack of fear and trembling before one of the great edifices of European culture.

Counterpoint is good for us, we are told. We are to follow it and appreciate it. Fischer shows us that voices, entries, counter-subjects and stretti don't matter. He plays the music and a fugue as simply an essay in inevitability—always alive, always forward moving. Listen to Book 1: VIII; Book 2: V, XIII, XXII.

There is an occasional failure. Book 1: XXIV is the worst. The grief-stricken B minor prelude has a moving base with a contrapuntally dissonant two-part treble reminiscent of the opening chorus of the "St John Passion". Bach indicates that each part is to be repeated. Fischer does not take the repeats. The fugue is marked Largo. Fischer plays it more like an Andante, robbing it of its burden of grief. A rare failure in a great performance.

One must sum up by saying that a great restoration job has made it possible to hear a revelatory performance. When I hear Gould perform these works, I think, "How great a pianist Gould is or sometimes how great Bach is". When I hear this Fischer performance, I think how happy I am to be alive.

Reviewer: Bill Rosen