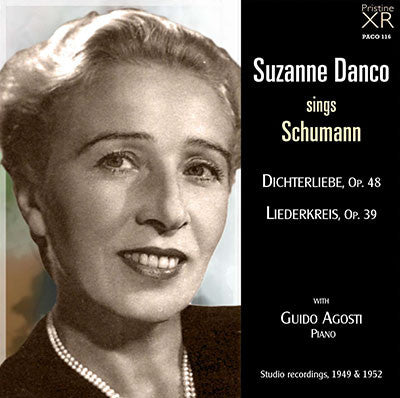 This album is included in the following set
s

:
This set contains the following album
s

:
Producer's Note
Full Track Listing
Cover Art
The complete Schumann recordings of Suzanne Danco
First digital release of her 1949 Dichterliebe - "The present recording will give much pleasure" (The Gramophone)
The Belgian soprano Suzanne Danco (22 January 1911 – 10 August 2000) sang in and recorded a number of operas, but is perhaps better known and remembered for her concert recitals and song cycle recordings. Yet in her twenty-two studio engagements for Decca between 1947 and 1956 she made only two recordings of the music of Robert Schumann - the two song cycles presented here. In both instances the Italian pianist Guido Agosti (11 August 1901 – 2 June 1989) accompanied her, as he would do for the majority of her song recordings.
Once again I am grateful to collector Richard Morris for loaning the rare Decca 78s for the present transfer of Dichterliebe - its first appearance in the digital age. The recording apparently also appeared on a 10" LP, LX.3039, but I was unable to source a copy on vinyl. It is therefore unclear as to whether the vinyl issue was a 78rpm transfer or directly mastered from tape. The answer may in fact be somewhat academic as Decca's earliest LP pressings were not the best: I managed to find two copies of Liederkreis on 10" LP, one a near-mint British pressing on the US London label, the other a French pressing acquired from a Swiss collector. Despite the latter having acquired more clicks and crackles over the years, the former suffered considerably from surface swish baked into the vinyl, and proved decidedly inferior. Of the two it's the earlier which is perhaps the better recorded, with a more even balance between singer and piano and a very slightly better tone for the latter. Both managed to capture the clarity and purity of Suzanne Danco's voice very well indeed.
Andrew Rose
SCHUMANN  Dichterliebe, Op. 48 

Recorded 26-28 April, 1949
West Hampstead Studios,London
Issued as Decca 78s AK.2310-12
Matrix Nos. AR 13428-33

 
 

SCHUMANN

Liederkreis, Op. 39

Recorded 9 April, 1952

Victoria Hall, Geneva

Issued as Decca LP LX 3107

Matrix Nos. SAR 637-42



Suzanne Danco, soprano
Guido Agosti, piano 
Fanfare Review
The issue, of course, is what she sounds like to us, 65 years later, and the answer is, pretty good, especially as she gets into Dichterliebe
This disc came as something of a surprise. Two surprises, really, because I had always associated Suzanne Danco (1911–2000) with the Franco-Italian opera repertory, though Andrew Rose, the producer, says she was in fact more known for her recitals, and that certainly seems to be the case for her recordings. This one is in German, in cycles more often associated with male singers (for no particularly good reason, by the way). As near as I can tell, these were her only recordings of songs by Schumann and her only recordings of complete cycles in German. Both were done in studios, the Dichterliebe in London in 1949, and the (Eichendorff) Liederkreis in Geneva in 1952.
The issue, of course, is what she sounds like to us, 65 years later, and the answer is, pretty good, especially as she gets into Dichterliebe. To judge from these recordings, her voice did not have that dramatic heft we might associate with these songs, such as we can hear for instance in the 1941 recording by Lotte Lehmann. In those songs that play to Danco's lower register—No. 6 in Dichterliebe, for instance, "Im Rhein"—she can bring some weight to bear, but as the voice goes up, it thins out and her characteristic quick vibrato becomes more evident. If that bothers you in our now vibrato-free age, then this recording is not for you. However, I found myself listening past that vibrato to other pleasures.
I am always impressed by how much Schumann can get into his frequently brief songs. He has such an enviable sense of completeness in a small space. Danco had a good grasp of the text; this is not just words attached to notes. She sees to it that the words and the notes take us together though the songs. In these small journeys, she is wonderfully abetted by her accompanist, Guido Agosti (1901–1989), whom I much regret never having heard before. It is a real partnership and itself one of the attractive aspects of this disc. In the Liederkreis, the piano is recorded slightly farther from the singer than in Dichterliebe, but it also strikes me that Danco herself is slightly more comfortable in this shorter cycle, which doesn't, of course, bear as much dramatic weight as Dichterliebe.
The other attractive aspect, of course, is the recording itself. I am constantly amazed at what can be done to rescue early recordings, and Andrew Rose deserves, well, roses for his work. As seems to be Pristine's custom, there are only a few notes on the insert, and the only new ones deal with the sources for the transfers. The texts and program notes must be hauled off the company's web site.
I am obliged to note that this disc is a bit short. These recordings seem to be the same as those issued in 2007 by Hafg, which also included five Schubert songs: As near as I can tell, those are the only Schubert songs Danco ever recorded. I have not heard that recording, and it dates the present recordings a year later in each case, but I cannot imagine its transfers to be better than those here.
Alan Swanson
This article originally appeared in Issue 38:5 (May/June 2015) of Fanfare Magazine.