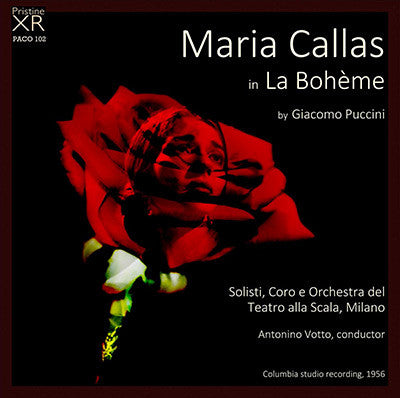 This album is included in the following set
s

:
This set contains the following album
s

:
Producer's Note
Full Cast Listing
Cover Art
Bringing fabulous new life to La Bohème - one of Maria Callas's finest recordings
"I found Callas's Mimì one of the most moving I have ever heard" - The Gramophone, 1958
This classic recording of one of the most popular and oft-performed operas ever written was very well recorded for its day (though one can only wish somewhat at headquarters in 1956 had pushed for stereo at this point). Alas the current EMI issue, although generally clean and clear, is a rather dull, lifeless affair to listen to. This new transfer with XR remastering brings real life and sparkle to the production, with a sense of real space on the stage especially present in our Ambient Stereo version.
On the basis of painstaking investigations of residual electrical hums found on the original recordings I've concluded that the orchestral tuning used here was around 445.5Hz, and this remaster has been tuned accordingly - taking into account, for the first time, tape speed drift and minor speed variations between tape machines over the course of the recording. The result is, I hope, definitive.
Andrew Rose

PUCCINI La Bohème

Mimì - Maria Callas
Rodolfo - Giuseppe di Stefano
Marcello - Rolando Panerai
Schaunard - Manuel Spatafora
Colline - Nicola Zaccaria
Benoît/Alcindoro - Carlo Badioli
Musetta - Anna Moffo
Parpignol - Franco Ricciardi
Custom House Officer - Eraldo Coda
Sergeant - Carlo Forti
Chorus & Orchestra of La Scala, Milan
Chorus Master: Norberto Mola
Conductor: Antonino Votto

Originally issued as UK Columbia LPs 33CX.1464-5
Fanfare Review
I treasure this CD and I think most opera lovers will want to own it
Opera fans who want to understand the tradition of the art will want to be aware of Pristine Audio's newly remastered recording of the 1956 Maria Callas-Giuseppe di Stefano La bohème. Not only does it give us a chance to hear Callas's intensely expressive interpretation of Mimì, we also hear her singing with a cast of her peers. Having lost almost 80 pounds a few years earlier, in 1956 Callas was svelte and sounded vulnerable as she sang her tragic role with plaintive vocal colors. She touches your heart, especially if you are a visual listener who tends to picture the artists playing their parts when you don't see them. The singing of all-time great vocalists such as Victoria de los Angeles and Renata Tebaldi is wonderful to hear, but I prefer the art of interpretive artists like Callas or Mirella Freni who sing and act with equal ability. Freni and Pavarotti sing with exquisite phrasing on the somewhat less emotional recording conducted by Karajan. Di Stefano portrays Rodolfo as an ardent, passionate lover and he has gleaming high notes as well as excellent diction. I find Giuseppe di Stefano's bright Italianate vowels more interesting than Jussi Björling's less sensuous sound, which is heard on the EMI remastered recording from 2002 with de los Angeles, Robert Merrill, and Thomas Beecham. On the recording with Tebaldi conducted by Tullio Serafin, Carlo Bergonzi sings with exquisite taste, but he does not have the fire of di Stefano. Pavarotti has more power than di Stefano but Karajan does not allow his tenor as much room to emote as Antonino Votto. With both sopranos and tenors, there are no wrong choices here. Preferences are simply in accordance with listeners' individual tastes. Anna Moffo is a dazzling Musetta who can be totally self-absorbed one minute and prayerfully charitable the next. Although she acts the part of a harridan at times, her tones are always sweet and smooth as silk. Rolando Panerai is a fresh-sounding Marcello who loves Musetta despite her faults and portrays his role with burnished tones. He does not have the rich tones that Merrill had, but I found his interpretation more credible. Manuel Spatafora tells Schaunard's bird story in an amusing manner, and Nicola Zaccaria sings Colline's overcoat aria with velvet low notes.
Pristine Audio offers this recording in several different formats. If you are a true audio buff, you will want either the compact disc or the ambient stereo 24-bit FLAC download. For those who listen on less efficient equipment or in their cars, there are lower priced alternatives, including 16-bit stereo or mono and MP3. The lively ambient stereo sound on the CD gives listeners the sense of space on a stage and makes this recording sound as though it was made much later than 1956. Pristine Audio discs do not come with a booklet of information, but the company's web site has excellent background material and scores as well. I treasure this CD and I think most opera lovers will want to own it.
Maria Nockin
This article originally appeared in Issue 37:6 (July/Aug 2014) of Fanfare Magazine.