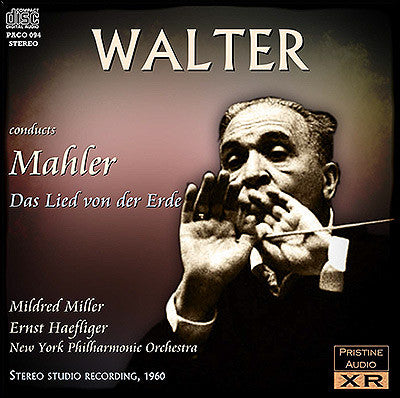 This album is included in the following set
s

:
This set contains the following album
s

:
Producer's Note
Full Track Listing
Cover Art
Bruno Walter's final word on the work he premièred 50 years earlier: Das Lied von der Erde
"exceptional insight into, and sympathy with, Mahler's thought, and ability to capture every nuance of his melancholy sensitivity" - The Gramophone
Having conducted the première performance of Das Lied von der Erde in Munich on 20 November 1911, some six months after his close friend and long-time musical colleague and mentor, Gustav Mahler's death, all of Bruno Walter's performances and recordings of the work come inevitably with an extra ring of "authenticity". He recorded the work three times, each effectively in a different era of recording technology. The first, made in Vienna in 1936 with Kerstin Thorborg and Charles Kullman (PASC108) sits sqaurely in the 78rpm era, whilst the second, another Viennese production, this time for Decca in 1952 with Kathleen Ferrier and Julius Patzak (PASC109), was a star release of the early mono LP era.

Here we find him, in his twilight years, in New York - with much improved sonics, and in full true stereo. Yet, as I've found with Walter's other late Columbia recordings, there remains room for considerable improvements in sound quality here; XR remastering this recording has greatly opened out and filled out the sound, lifting a veil from the top end, finding greater warmth and depth at in the bass and lower mid-range, and smoothing out some awkward hamornic peaks in the middle, to deliver a more natural sound from both singers and orchestra. Overall the result is entirely captivating!


Andrew Rose
MAHLER Das Lied von der Erde 


Mildred Miller    mezzo-soprano
Ernst Haefliger    tenor
New York Phiharmonic Orchestra
Bruno Walter    conductor
Recorded 18 & 25 April 1960, Manhattan Center, New York City
Producer and Audio Restoration Engineer: Andrew Rose
Cover artwork based on a photograph of Bruno Walter
Total duration: 63:40

Fanfare Review
For a stereo recording of Das Lied, this one remains a prime choice; strongly recommended.
To my great pleasure, Andrew Rose at Pristine Audio is continuing to devote his refurbishing efforts to recordings by my podium idol, Bruno Walter. Although his efforts have not been uniformly successful, his best ones—the Bruckner Ninth and Mahler Fifth symphonies that I praised in separate reviews in 37:1—are accomplishments of such merit that they caused me to fundamentally re-evaluate the character of the performances themselves. I am therefore pleased to give my endorsement to this new release as well. I initially approached this disc with some trepidation, because in my experience Rose has been far less successful at remastering vocal recordings than purely instrumental ones; too often the character of singers' voices has been altered for the worse with a kind of harsh, edgy electronic penumbra. Happily, that is not the case here; both Haefliger and Miller sound completely natural, and the sound has been opened up and made to blossom in a way very similar to what Rose achieved with the Bruckner Ninth—richer, weightier bass, fuller midrange and treble, and a touch of added warmth to Columbia's slightly dry-sounding original ambience.
In particular, I think that Mildred Miller benefits the most here. She is a prime example of a singer with a good but not great or distinctive voice, who nevertheless could produce exceptional results under the tutelage of the right conductor, the latter in this case being of course Walter. (Their recording of Lieder eines fahrenden Gesellen continues to have no peers, and it is mind-boggling to know that Walter himself had never even studied the score until Miller asked to record it with him when a few extra hours of studio recording time unexpectedly became available!) While her voice qua voice is no match for that of Thorborg or Ferrier in Walter's earlier recordings of Das Lied, or for singers such as Maureen Forrester, Christa Ludwig, and Janet Baker in other famous versions, under Walter's coaching she is an unexpectedly fine and probing interpreter of the texts. Haefliger remains one of the most poised and elegant purveyors of the tenor part, and the New York Philharmonic plays with razor-sharp virtuosity.
Das Lied is one of the dominant works in Walter's discography, with eight different recordings (two studio, marked * below, and six live, with that from 1949 lacking the first and last movements) having appeared on CD, as follows:
| | | |
| --- | --- | --- |
| Date | Soloists | Orchestra |
| 05/24/1936 | Kerstin Thorborg, Charles Kullmann | Vienna Philharmonic |
| 01/18/1948 | Kathleen Ferrier, Set Svanholm | New York Philharmonic |
| 08/21/1949 | Kathleen Ferrier, Julius Patzak | Vienna Philharmonic |
| *05/15–20/1952 | Kathleen Ferrier, Julius Patzak | Vienna Philharmonic |
| 05/17/1952 | Kathleen Ferrier, Julius Patzak | Vienna Philharmonic |
| 02/22/1953 | Elena Nikolaidi, Set Svanholm | New York Philharmonic |
| 04/16/1960 | Maureen Forrester, Richard Lewis | New York Philharmonic |
| *04/18 & 25/1960 | Mildred Miller, Ernst Haefliger | New York Philharmonic |
Of these, the three commercial recordings (the 1936 live performance in Vienna also being recorded by EMI for commercial release) easily continue to hold pride of place. Of the other five, that of April 16, 1960 is the one of the most interest, due to the presence of Maureen Forrester with Walter in a live performance in quite decent monaural sound. (Tenor Richard Lewis is not quite on the same level, taking a couple of minutes to get warmed up and not ever sounding fully at ease in his upper register.) The two performances with Svanholm are non-competitive, due both to that tenor's uningratiating voice and defective vocal technique and to the inferior recorded sound, while the 1949 performance is likewise in mediocre sound and (as already noted) incomplete.
As some readers doubtless already know, there has been considerable controversy over the Andante and Tahra releases in 2002 of the live May 17, 1952 performances. In a review in Gramophone Magazine, Rob Cowen charged that the Andante release was actually a doctored version of the contemporaneous studio recording, to which Andante's artistic supervisor, Gottfried Kraus, wrote a rebuttal. The issue was further inflamed when a few months later Tahra issued what it claimed was the first release of the May 17 performance, one clearly different from the Andante release (e.g., Patzak flubs an entrance early in the fifth song). So far as I know, no definite resolution has been reached regarding the various claims and counter-claims; however if, as at least one source has suggested, the Tahra release is actually of the May 18 performance, then there are nine surviving performances instead. For my part, I think Cowen is right. While I trust that honest error rather than willful deception was involved, the Andante issue does sound uncannily like the Decca studio version, right down to a few momentary subtle background noises. Moreover, Kraus has recently made a verified serious error regarding source materials in issuing a performance conducted by Hans Swarowsky of Mozart's Concerto for Two Pianos, K 365, as being one by Wilhelm Furtwängler, despite the prior and well-publicized authentic release of the latter in 2002 by Music & Arts (see the reviews by Ronald Grames and Henry Fogel of the Orfeo set in 37:3, and by Fogel of the M& A release in 26:3.) Consequently, I for one have doubts regarding Kraus's acumen in discerning authentic source materials. In any case, for most listeners the live performance in its indisputably authentic Tahra release will present an interesting gloss on, but not replace, the immortal Decca recording.
As for the three main contenders, all have enjoyed multiple and uniformly glowing reviews from numerous critics in these pages (not to mention elsewhere), and it would be superfluous of me to add to those at any length. Suffice it to say that while the 1952 Decca recording is the consensus choice for a favorite—and indeed for many remains the greatest recording of the work for all time—the other two versions also have their champions for first choice. (Jon Tuska endorsed the 1936 EMI recording in 17:2, and Christopher Abbott the 1960 Columbia recording in 32:2.) As for myself, I love them all, but I concur with the consensus for the Decca recording as the desert island choice; while the 1936 version objectively ranks second as a performance due to my marked preference for Thorborg over Miller, the 1960 studio recording is better in virtually every other way and will likely provide most listeners with greater pleasure. I also wouldn't be without the Tahra release; despite the lesser depth of the recorded sound compared to the studio version and a few rough moments, it has a special incandescence, with Patzak in particular sounding even more vibrant and having a real ring and heft to his voice. But for a stereo recording of Das Lied, this one remains a prime choice, and now Pristine Audio has given one even more reason to acquire it; strongly recommended.

James A. Altena
This article originally appeared in Issue 37:4 (Mar/Apr 2014) of Fanfare Magazine.