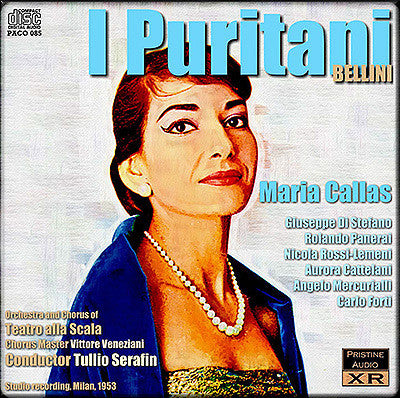 This album is included in the following set
s

:
This set contains the following album
s

:
Producer's Note
Full Cast Listing
Cover Art
Callas's first full Bellini opera - her second for EMI - another musical milestone
Her first La Scala recording given the full Pristine XR remastering treatment to sound stunning
The year 1953 was a phenomenally busy one in the studio for Maria Callas. The previous September had seen her first opera recording. 1953 saw Lucia di Lammermoor (January & February), I Puritani (March), Cavalleria Rusticana (April & August), Tosca (August), and La Traviata (September) all recorded by EMI. The middle three were recorded at La Scala in Milan, where Callas was to record the majority of her major opera recordings, with the present recording being the first of these.
As was typical of the day, the voices were dry and the orchestra somewhat boxy and wooden in sound quality, generating a sound which was relatively clean and clear but not particularly flattering to any of the musicians. Furthermore the lower end was somewhat feeble, leaving the lower male voice sounding a little pale; overall the sound was flat and one-dimensional. This XR-remastering, best heard in its Ambient Stereo version, tackles all of these shortcomings; whilst of course the recording remains central and mono, a sense of reality and space is opened up around voices and and orchestra we can truly believe in. The singers - both soloists and chorus - are immediate and very much alive in front of the listener, and the orchestra's tone is full and clear, shedding any hint of boxiness
Careful analysis or residual hum suggests an orchestral pitch of around A4=447Hz, which has been adopted here.
Andrew Rose

BELLINI I Puritani
Text: Carlo Pepoli
Recorded 24-30 March, 1953
Basilica di Santa Eufemia, Milan
Producer: Dino Olivieri
Engineers: I. Varisco
Catalogue numbers Columbia 33.CX.1058-60

THE CAST
Elvira - Maria Callas soprano
Lord Arturo Talbo - Giuseppe Di Stefano tenor
Sir Riccardo Forth - Rolando Panerai bass
Sir Giorgio - Nicola Rossi-Lemeni bass
Enrichetta di Francia - Aurora Cattelani mezzo-soprano
Sir Bruno Robertson - Angelo Mercurialli tenor
Lord Gualtiero Valton - Carlo Forti bass



Orchestra and Chorus of Teatro all Scala
Chorus Master Vittore Veneziani
Conductor Tullio Serafin

Gramophone Historic Review
Callas is the thing here, and nobody who admires her art can be without this historic set
John Steane in his notes to this set rightly reminds us that it was Callas's famous 78rpm record of Elvira's Second Act scena that awakened many attentive ears to the particular calibre and magic of Callas's art. By the time this set (which appeared three or four years later) was made, she was an established star, and the uniquely elegiac, plangent quality of her Bellini singing was amply confirmed. I can hardly think of any music in all her recorded repertory I would rather hear her interpret than "Qui la voce", " Oh, vieni al tempio" from the Wedding scene, or "Son vergin vezzosa" . They seem to adumbrate the very best of her art : the limpid tone (here, in her prime, warm and sensuous), her moving, meaningful way with coloratura, pointed diction. That last attribute, allied to that vulnerable feeling Callas could always bring to her voice, are heard to marvellous effect in the recitative, most of all in the passage where Elvira is restored to her senses when her beloved Arturo returns to her side.

The remainder of the cast have not had a good press, but I must admit that, at this distance of time, I find di Stefano's bold, ardent singing, even if it is not so graceful as one might wish and at times too strenuous, most appealing and Rolando Panerai's incisive, vibrant voice near-ideal for Riccardo. Then , Rossini-Lemeni, as the fatherly Gualtiero, is here heard to greater advantage than on his other recordings, his cantabile truly Bellinian. Serafin is, as ever, masterly in control of BelIinian line and drama, so it is a great pity such huge swathes of the score are excised. For more complete versions of the score you would ha ve to turn to Muti's excellent version with Caballe:, were it available (EMI SLS5201, 1/81), or the Sutherland/ Bonynge set (Decca SET587, 7/75). But what we have is here contained on two LPs (a CD release is scheduled for later this year), each with very long sides and not a hint of distortion. Also the awful mistake of using 'mock' stereo, as on the 1978 reissue, is here eschewed.

I like the way the engineers, in the early 1950s, recorded voices rather than, as has often happened since, space; but the orchestra sounds somewhat boxy by modern standards. I find it odd that the booklet retains Francis Toye's essay on Bellini, which refers to articles in the old Grove; at least it should have been updated. But Callas is the thing here, and nobody who admires her art can be without this historic set.

A. B., Gramophone, September 1987, EMI reissue, excerpt