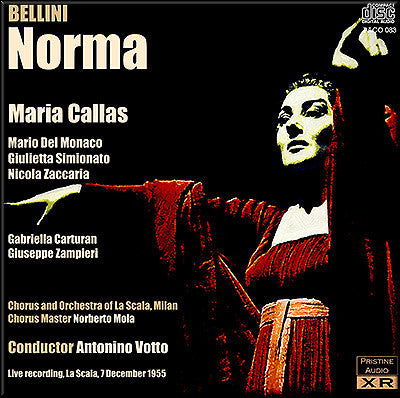 This album is included in the following set
s

:
This set contains the following album
s

:
Producer's Note
Full Track Listing
Cover Art
Maria Callas's finest recorded performance in Bellini's Norma
Legendary December 1955 La Scala performance in unprecedented sound quality
In the e-mails which followed our remastering and release earlier this year of Maria Callas's iconic 1953 Tosca (PACO080) was one which simply asked me to look at her Norma. Not knowing to which of the several live and studio recordings she made of Bellini's opera my correspondent was referring I decided to do some research of my own. Time and time again I read that this, the December 1955 live recording at La Scala, was the performance to hear - despite the terribly poor sound quality. It seemed clear to me that therein lay a challenge...
And a challenge it proved to be. The original recording suffers multiple problems, most of which are clearly audible on previous issues on other labels. Audibly wobbly at times, wow and flutter afflicts particularly the orchestral sections (happily vocal vibrato tends to mask this for the singers); a limited frequency range was exacerbated by a week bass and lower midrange, all of which merged into quite heavy background noise; radio interference and crosstalk frequently distracted the listener from the performance; hiss levels were uncomfortably high; and the vocals themselves were frequently uncomfortable to listen to as a result of an over-egged upper-midrange in attempts to bring clarity to the words.
This new 32-bit XR remastering attempts to address all of these shortcomings. Whilst I have to acknowledge the limits of what can be achieved with material like this (one cannot magic up lost frequencies from nowhere!), I've been able to address the pitch issues using the revolutionary Capstan pitch stabilisation system (as well as set the final pitch to just a hint under A4=435Hz, in line with all measurements of the source material's residual electrical signals), brought out the richness of the lower end whilst separating it from the noise in which it was buried, preserved what upper frequencies were there whilst taming a harshness which could at times be painful at higher volumes, and reduced or entirely eliminated thousands of extraneous noises, interference and so forth. As with other releases it has been necessary to fill some gaps where material was missing - I've used Callas/Del Monaco's RAI broadcast of 29 June 1955 for this, and re-equalised the earlier material to match as well as possible the La Scala sound.
The end result is, despite the limitations inherent in the original recording, a remarkable transformation of a magical, unforgettable performance.
Andrew Rose
BELLINI Norma
Text: Felice Romani after Norma, ossia L'infanticidio
(Norma, or The Infanticide) by Alexandre Soumet
Recorded 7 December 1955 Teatro alla Scala, Milan

THE CAST
Maria Callas - Norma
Mario Del Monaco - Pollione
Giulietta Simionato - Adalgisa
Nicola Zaccaria - Oroveso
Gabriella Carturan - Clotilde
Giuseppe Zampieri - Flavio


Chorus and Orchestra of La Scala, Milan
Chorus Master Norberto Mola

Conductor Antonino Votto
Fanfare Reviews
If there is a single Norma of Callas to have, it is probably this one ... anyone who cares about this performance really needs the Pristine version.
This performance previously released on the MYTO label was reviewed in Fanfare 32:3 by Marc Mandel along with six other operas starring Maria Callas. As Mandel wrote: "By now all of Callas's recordings have been so much discussed in the literature that my aim here is to consider these performances as briefly and efficiently as possible." I certainly agree with Mandel and will follow his advice and try to be both brief and efficient. As Mandel pointed out, and as is mentioned in the brief notes on the inside of the cover, the first 15 minutes of this performance were not recorded and they are again in this release spliced in from the earlier RAI concert performance with Del Monaco.
I agree with Mandel who praised this performance as "so overwhelming theatrical as to make for an amazing visceral listening experience, reaching levels of excitement as thrilling as anything I've ever heard on disc." Not only does it feature Callas and Del Monaco, two of the greatest star singers of their era, but also the wonderful mezzo Giuletta Simionato and the fine bass Nicola Zaccaria. Antonio Votto's conducting brings out the drama in the score. There is no booklet, just what are labeled Transfer notes by AR, who explains how he improved the sound through remastering. The program notes, as for other Pristine Audio recordings, can be obtained online. Recommended to anyone who does not have a copy of the MYTO release.
Bob Rose
This article originally appeared in Issue 36:4 (Mar/Apr 2013) of Fanfare Magazine.

If Pristine were going to make the obvious choice of a live Callas Norma for restoration, it might have been the 1955 Rome RAI broadcast, because it was conducted by the more famous and highly admired Tullio Serafin. And yet, as Marc Mandel hints in his Fanfare 31:6 review of that RAI recording, this might well be the preferred version. Because it is a fully staged performance in a great opera house, it seems to me that it reaches levels of intensity and sheer dramatic power not present on the RAI, even with the presence of Serafin. Votto, often a routinier, seems to be lifted way above that level by the greatness of what was happening on stage that night. The three principals feed off of each other, and if there is a single Norma of Callas to have, it is probably this one.
That is particularly true of Pristine's fabulous transfer. My only complaint is that if you get the CD version there is an awful break between the sides which allowed them to fit it on two discs. But if you download it from their web site, you can avoid that problem. But the sound quality is so much better than its predecessors (I know the performance from transfers on the Hunt, Gala, and Myto labels) that anyone who cares about this performance really needs the Pristine version.
One of the major repairs that Andrew Rose has accomplished is removing virtually all of the flutter—the rapid speed variation that particularly affected sustained woodwind notes, making clarinets sound as if they were underwater. Although he was (obviously) unable to restore frequencies that were simply not on the original source (one does wonder what happened to the masters of the Scala broadcasts), the frequency range that is there is more naturally and pleasingly balanced than elsewhere. All previous incarnations were harsh and edgy. That is not the case here. Rose provides fairly detailed notes explaining his work. Where there was material missing from this performance, he used the RAI performance to fill it in—I wish he would have been specific about precisely where this occurred. When a company specializes in historic reissues, particularly of live performances, there is an obligation to list the specifics of any changes to the original that they have made. That is a part of historic preservation. Nonetheless, in the end one can do little but praise Pristine's remarkable sonic restoration here.
As for the performance—as much as any evidence that exists it demonstrates the greatness of Callas, particularly in this most demanding role. Of all her recorded Normas, this finds her with the best balance of superb vocal condition and incisive dramatic instincts. One could argue that her singing, as singing, is better in the 1952 Covent Garden performance (released on many labels including EMI), but her insights deepened considerably in the intervening three years. She colors the voice throughout—phrase by phrase, without ever seeming fussy or studied. Her fury at Adalgisa, her tenderness toward her children, and again her fury at Pollione in the final scene, all are palpable. She will break your heart as she enters in the duet "Mira o Norma" with Adalgisa, darkening the color of the voice poignantly—and, by the way, blending perfectly with Simionato. The centerpiece of Callas's Norma is the monologue "Dormono entrambi," when she considers killing her children and is then horrified at herself. No Norma in my experience, and I have heard many, conveys the range of emotion inherent in this scene, one of Bellini's most innovative and imaginative inspirations. You cannot come away unmoved. And Callas is in great voice throughout, capping act I with a ringing high D♭that soars over everyone.
Simionato is in great voice as Adalgisa, her voice free and open and her insight into the character deep. She is a true partner for Callas, inflecting and coloring her singing with meaning. The two play off each other superbly. Del Monaco is not quite so subtle, but the character of Pollione lacks opportunities for subtlety anyway. His voice rings authoritatively, with clarion sound and an innate sense of how to shape the music, and his presence here is a real asset to the whole. Nicola Zaccaria's Oroveso is a fine addition, and Gabriella Carturan and Giuseppe Zampieri round out the cast as Clotilde and Flavio, each adding to the glamor of one of those great nights in the opera house.
As I re-read the above, I feel that it doesn't adequately express the cumulative power of this Norma. Callas was sui generis. Hers was not a classically beautiful voice. But she had a unique ability to change vocal color in order to fit the sound to the moment of the score and the libretto. No soprano in this repertoire could match her in this. And in her few prime years, when the voice was steady throughout and the control of dynamics and phrasing was total, there was no one like her. This is an historic performance, finally available in decent monaural sound, and as such qualifies for Fanfare's Classical Hall of Fame.
Henry Fogel
This article originally appeared in Issue 40:1 (Sept/Oct 2016) of Fanfare Magazine.