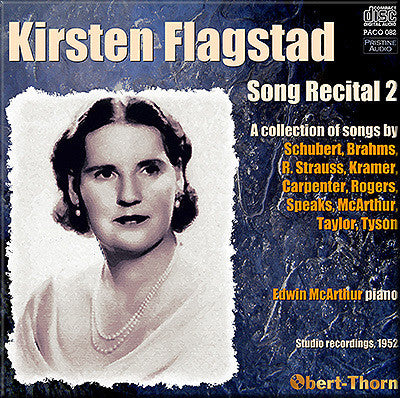 This album is included in the following set
s

:
This set contains the following album
s

:
Producer's Note
Full Track Listing
Cover Art
Second volume of song recitals from one of the greatest sopranos ever
Superb transfers of Kirsten Flagstad's early-50s LP releases by Mark Obert-Thorn completes the set
The present release is the second of two devoted to Flagstad's complete postwar American recordings for RCA Victor. As noted in the first volume (PACO 079), these recordings form one of the least-known portions of Flagstad's discography, not least because of their lack of availability for most of the past half century. The bulk of the items featured here have not been available in any form since the 1950s, and none have previously appeared on CD. In addition, most of the songs taped in these sessions were the soprano's only recordings of the works, which makes their reissue doubly valuable.
As noted in the earlier volume, the reason for the absence of these recordings from the catalog for so long has less to do with the quality of the singing – after all, it was only two months after the last session on this program that Flagstad recorded her iconic Isolde under Furtwängler – but rather with RCA's lack of interest in reissuing anything other than her Wagner recordings. (Her prewar RCA song recordings have similarly been ignored, although at least those have been reissued on CD by independent labels.) Of particular interest here is the group of songs by American composers, including two by her longtime accompanist, Edwin McArthur.
The sources for the transfers were a British HMV LP for the two Schubert songs, a Canadian RCA pressing for the remaining items from LM-1738, and multiple copies of first-edition American pressings for the remaining items. The crackling noise heard at the beginning of Track 10 is in the original tape master and appears on all LP editions.
Mark Obert-Thorn
SCHUBERT

An die Musik, D.547 (Text: Schober) (2:58)
Ganymed, D.544 (Text: Goethe) (4:08)
BRAHMS

Von ewiger Liebe, Op. 43, No. 1 (Text: Wenzig) (4:32)
O wüsst' ich doch den Weg zurück, Op. 63, No. 8 (Text: Groth) (3:31)
Muss es eine Trennung geben, Op. 33, No. 12 (Text: Tieck) (3:21)
Wie froh und Frisch, Op. 33, No. 14 (Text: Tieck) (2:22) 
R. STRAUSS

Mein Herz ist stumm, mein Herz ist kalt, Op. 19, No. 6 (Text: Schack) (3:37)
Ich liebe Dich, Op. 37, No. 2 (Text: Liliencrom) (2:24)
Ruhe, meine Seele, Op. 27, No. 1 (Text: Henckell) (3:44)
Wiegenlied, Op. 41a, No. 1 (Text: Dehmel) (4:20)
Allerseelen, Op. 10, No. 8 (Text: Gilm) (3:22)
Zueignung, Op. 10, No. 1 (Text: Gilm) (1:53)
Du meines Herzens Krönelein, Op. 21, No. 2 (Text: Dahn) (2:31)
Ach Lieb' ich muss nun scheiden, Op. 21, No. 3 (Text: Dahn) (2:16)
]
J. Walter KRAMER

Now like a lantern (Text: Raphael) (2:50)
John Alden CARPENTER

When I bring to you colour'd toys (Text: Tagore) (2:20)
The sleep that flits on baby's eyes (Text: Tagore) (2:34)
James H. ROGERS

At parting (Text: Peterson) (2:08)
Oley SPEAKS

Morning (Text: Stanton) (2:10)
Edwin McARTHUR

We have turned again home (Text: Towne) (2:49)
Night (Text: Towne) (2:53)
Deems TAYLOR

A song for lovers, Op. 13, No. 2 (Text: Stephens) (2:52)
Mildred TYSON
Sea moods (Text: Benham) (2:48)


Tracks 1-2: Recorded 17 March 1952
Tracks 3-14 and 21-22: Recorded 10 April 1952
Tracks 15-20 and 23: Recorded 18 March 1952

Tracks 1-4, 8-9 and 18-20 first issued on RCA Victor LM-1738
Tracks 5-7 and 15-17 first issued on RCA Victor LM-2825
Tracks 10-14 and 21-23 first issued on RCA Victor LM-1870
Recorded in RCA Studio No. 2, New York

Kirsten Flagstad soprano
Edwin McArthur piano
Total duration: 68:23

Producer and Audio Restoration Engineer: Mark Obert-Thorn
Cover artwork based on a photograph of Kirsten Flagstad