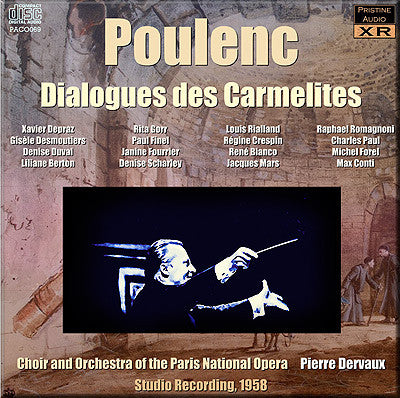 This album is included in the following set
s

:
This set contains the following album
s

:
Producer's Note
Full Cast Listing
Cover Art
French première cast of Dialogues des Carmelites
Poulenc's opera is one of the greatest of the 20th century
The original recording of this opera, made with the same cast which had sung in Paris in the première of this, the original French version of the opera (its La Scala première was in Italian) was, although clearly recorded, lacking in depth and suffering from a boxy sound quality. This I've been able to improve considerably, and the addition of Ambient Stereo processing also considerably improves the experience for this listener. Cross-checking with a modern recording of the opera reveals one or two very minor cuts in the present recording; what is left is one of the finest operas of the second half of the twentieth century in a truly superb production.
Andrew Rose

POULENC Dialogues des Carmelites
Recorded at the Maison de la Mutualité, Paris, 15 January 1958
First issued as Voix de son maître FALP 523-525
Transfers from Angel set CL-3585
Discs from the collection of Dr. John Philips

Denise Duval (sop) Blanche de la Force
Régine Crespin (sop) Madame Lidoine
Denise Scharley (mez) Madame de Croissy
Liliane Berton (sop) Soeur Constance
Rita Gorr (mez) Mere Marie
Xavier Depraz (bass) Marquis de la Force
Paul Finel (ten) Chevalier de la Force
Janine Fourrier (sop) Mere Jeanne
Gisèle Desmoutiers (sop) Soeur Mathilde
Louis Rialland (ten) L'Aumônier
René Bianco (bar) Le Geôlier
Jacques Mars (bar) L'Officier
Raphael Romagnoni (ten) First Commissaire
Charles Paul (bar) Second Commissaire
Michel Forel (ten) Thierry
Max Conti (bar) Javelinot

Choir and Orchestra of the Paris National Opera
Pierre Dervaux conductor
XR remastering by Andrew Rose at Pristine Audio, November-December 2011
Front cover artwork based on a photograph of Pierre Dervaux
Total duration: 2hr 25:12