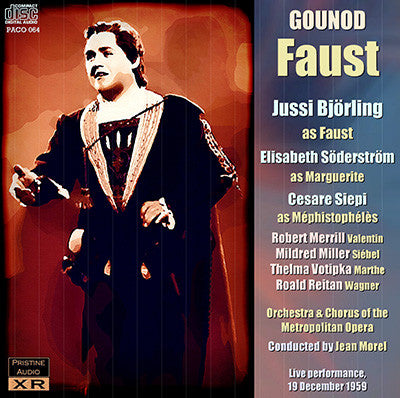 This album is included in the following set
s

:
This set contains the following album
s

:
Producer's Note
Full Track Listing
Cover Art
Jussi Björling stars as Faust in Gounod's opera
One of his final stage roles - live at the Met in 1959

This recording was issued on Robin Hood Records RHR 5021-5023, and is credited as a "private recording" on the record labels. The performance had been broadcast by NBC radio, and there is aural evidence that the present recordings was most likely taken from this transmission. As was standard practise in 1959, the fourth and fifth acts are both cut and rearranged in order from the original score - despite its popularity, Faust had never been performed in its full version at the Metropolitan Opera by the time of this performance. The Robin Hood LPs would appear to have been mastered from what I would expect to be acetate LP recordings, with little or no evidence of any processing or remastering at the time - some clicks from those original masters were evident on the LPs used for these transfers - clearly distinct from the surface clicks of the RHR sides.
The sound quality of the LPs was somewhat muted and lacking in bass, something I've rectified as much as was possible. The top end extends to around 12kHz, which suggests a broadcast source; hiss was variable but noticeable throughout - slightly more so after XR re-equalisation brought out top end clarity in the recording. Some of the disc sides displayed a greater degree of high frequency hiss than others, and there was a tendency for the pitch to droop somewhat towards the end of each LP side, something which is now correctable. I've used very mild pitch stabilisation throughout - taking into account of course the inappropriateness of "correcting" vocal vibrato! I've also been able to fix some occasional dropouts. The final result is a complete transformation of the sound heard on the original sources to something which I hope does full justice to a great performance from one of the greatest singers of all time.
Andrew Rose

GOUNOD Faust
Live broadcast from the Metropolitan Opera, New York, by NBC Radio, 19th December 1959
Transfers from Robin Hood Records RHR 5021-5023
Discs from the collection of Dr. John Philips

Jussi Björling Faust
Elisabeth Söderström Marguerite
Cesare Siepi Méphistophélès
Robert Merrill Valentin
Mildred Miller Siébel
Thelma Votipka Marthe
Roald Reitan Wagner

Orchestra & Chorus of the Metropolitan Opera
Jean Morel conductor

XR remastering by Andrew Rose at Pristine Audio, September 2011
Front cover artwork based on a photograph of Jussi Bjorling as Faust
Total duration: 2hr 36:43


Fanfare Review
Björling's performance, with its ideal vocal weight and controlled passion, is something far above the ordinary
This broadcast turned out to be Jussi Björling's penultimate performance at the Met—one last Turiddu three days later, and that was it for one of the mid-century's greatest singers, at least as far as the Metropolitan Opera was concerned. Nine months later, he died of a heart attack at 49. There are stories that heavy drinking contributed to his demise. This may be so, but when I read or hear anecdotes about his alleged alcoholism, I am reminded of Lincoln's response when he was told that General Grant was known to imbibe a good bit of whiskey: "Find out what kind he drinks so I can send some to my other generals!" Granted, some of the bright sweetness was gone from his voice by 1959, but those brilliant high notes are still there to be summoned at will and held just long enough for us to know they are rock-solid. As always, he can be intense without shouting or express sadness without vocal catches and sobs. One could argue that someone like Jerry Hadley, on the Carlo Rizzi recording, is more sensitive and nuanced, but Björling's performance, with its ideal vocal weight and controlled passion, is something far above the ordinary. I have read that Elisabeth Söderstrom was feeling under the weather the day of the broadcast, but I'll admit that I don't notice anything out of the ordinary except the fact that her singing is specific—she isn't just rattling off the text and, if the voice is not meltingly beautiful, it's sturdy, attractive, and intelligently applied to the task at hand. Cesare Siepi's Mephisto isn't as overpowering as it was on the 1951 Columbia recording; his approach to the role is subtler and slyer by 1959, though he isn't quite warmed up until the Kermisse. By my recollection, he became even better a few years later, but this recording captures him in close to his later form. For whatever reason, there's a slight buzz of distortion in his voice when he sings forte but it diminishes as the opera proceeds; it's the sort of thing one expects to hear on pirate recordings but not on Pristine Audio CDs. Apparently a touch of resonance has been added, since the Met broadcasts had drier sound than this. It's largely beneficial except at the start of what there is of the Walpurgis Nacht scene when the orchestra sounds like it's playing in Grand Central Station.
As for the rest of the cast, Robert Merrill seems like luxury casting for Valentin and sounds like it—he's in top form. Mildred Miller was about as good as it got in lighter mezzo roles like Siebel, Cherubino, and Nicklausse, and one regrets that this edition of the score, with its theater cuts, shortens her part. Rather than trying to detail the cuts, let me point out that if you pretend that Jean Morel included the ballet music and add 17 minutes to the performance, you still only get a timing of roughly 173 minutes. Looking at the timings of some of the studio competition, that puts it in the same class as the two Cluytens recordings (roughly 176 and 172 minutes) but well short of Bonynge (190), Prêtre (189), Plasson (204), and Rizzi (212—a slow performance, I'll grant you). Morel is more indulgent with his soloists than with the ensemble; he takes the Kermisse so fast that the chorus can barely keep up with him. There are also a few times when he's out of sync with the soloists, especially Merrill (which isn't necessarily Morel's fault). There is an abrupt side break in the scene between Méphistophélès and Marthe but at least Pristine managed to fit the broadcast onto two CDs. Even the complete recordings tend to put some of the extra music into an appendix. The edition used by Morel and other conductors may leave out some worthy numbers, but it works in the theater, especially with a cast like this one.
James Miller
This article originally appeared in Issue 35:4 (Mar/Apr 2012) of Fanfare Magazine.