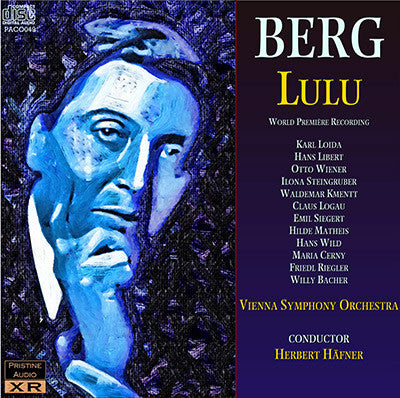 This album is included in the following set
s

:
This set contains the following album
s

:
Producer's Note
Full Track & Cast Listing
Cover Art
The world première recording of Berg's classic opera
A real sonic transformation in this new XR-remastered transfer
The first recording of Berg's Lulu was made either in 1949 or in the spring of 1951, either way, the original shows its age and was rightly criticised for sonic shortcomings when eventually reviewed in its Philips release in Britain in 1962 (the reviewer also lamented that the opera was unlikely to receive another recording, let alone in stereo, in 'our lifetimes' - I hope he lived another 6 years and long enough to listen to the follow-up!).
Well it turns out that this is one of those happy occasions where XR remastering can utterly transform a recording, not only cleaning up the murk of the original (and fortunately we had near-mint Philips pressings to work from), but doing away completely with the dim and ill-balanced original tone to reveal a wonderful, multi-faceted, well-balanced and exceptionally listenable recording underneath. It is also as if one were to take a murky brown canvas of indeterminate origins and, through appropriately careful restoration, reveal a fine and vivid Van Gogh beneath.
The reminders of vintage are few and far between - a very occasional edge to the louder vocal notes may be perceived by the careful listener, for example. Other than this, the obvious shortcoming of this, as with any other recording of this opera before 1979, is the lack of a complete third act. Berg's failure to complete the sketches he'd made for the final act prior to his death, and his wife's insistence that (after an abortive effort by Schoenberg) nobody else should do so, means that the recording here presents merely the orchestral music which would have finished the opera.
Overall, a powerful rehabilitation of this first recording - and one which, as a result, deserves hearing again with fresh ears!
Andrew Rose


BERG - Lulu

Cast (in order of singing)

Karl Loida,

bass

- Animal trainer
Hans Libert,

tenor

- Alwa
Otto Wiener,

baritone

- Dr. Schön
Ilona Steingruber,

soprano

- Lulu
Waldemar Kmentt,

tenor

- The Painter
Claus Logau,

speaker

- The Doctor
Emil Siegert,

bass

- Schigolch
Waldemar Kmentt,

tenor

- The Prince
Hilde Matheis,

contralto

- Dressing-room attendant
Hans Wild,

bass

- Manager
Maria Cerny,

mezzo-soprano

- Countess Geschitz
Karl Loida,

bass

- Rodrigo
Friedl Riegler,

contralto

- Schoolboy
Willy Bacher,

tenor

- Servant

Vienna Symphony Orchestra
conducted by Herbert Häfner

This is the original unfinished version of the opera, with the orchestral music Berg had written for the finale. A "completion" of the opera by Friedrich Cerha was published in 1979, following the death in 1976 of Berg's widow, Helene, who had forbidden a completion during her lifetime.


 

Source information:

World première recording, Vienna, Spring 1951 (some sources suggest 1949)
Originally issued as Columbia Masterworks SL-121
Transfer from Philips Modern Music Series LPs A01496L - A01498L
XR remastering by Andrew Rose at Pristine Audio, August 2010
Cover artwork based on a photograph of Alban Berg
Total duration: 121:22