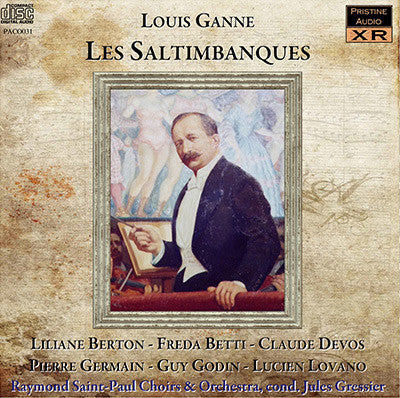 This album is included in the following set
s

:
This set contains the following album
s

:
Producer's Note
Full Track & Cast Listing
Cover Art
A delightful, if almost forgotten French opéra-comique
All the highlights of Ganne's best-known work in an excellent recording
This is one of a very small number of known recordings of this comic opera, though the odd aria does crop up in some collections, and I would imagine that the work is largely unknown to a majority of visitors to this site - as, indeed, might also be said for the composer.

The LP from which this transfer was taken was therefore a very pleasant find for me - very well recorded (with one caveat - see below) and in excellent condition, my disc turned out to be a slightly later reissue of the original Pathé LP.

Comparison to a near-contemporary full recording (available at iTunes) reveals this to be a far superior recording in almost every respect. As such it's perhaps a shame they did not record the full work - though perhaps for anyone but the most dedicted fan (who might legitimately wish to own this abridged version alongside a full rendition) this 45-minute highlights selection, omitting almost all the French dialogue and cut by about 30 minutes, is still an ideal introduction to the work and its composer.

It's very much a piece of its day, and musically - on first hearings at least - can be seen as coming from a similar tradition not only of French comic opera, but also of well-known near-contemporary works such as Leoncavallo's Pagliacci and Mascagni's Cavalleria Rusticana. It's chock full of great and stirring tunes, rousing choruses, includes a bit of a military twist at one point, and I'm sure was deservedly a great hit in its day!

My one gripe with this recording is perhaps a minor technical one - which appears to have more to do with the LP mastering than the master recording itself. On both sides of the disc it would appear that the treble has been rolled off to a degree towards the end of the side, which also starts to suffer from some very high-frequency noise and mild distortion. While it's been possible to largely deal with the latter, and the roll-off is gradual enough to pass almost unnoticed during listening, you certainly hear that excellent clear top end return as we begin Act 2 at the start of side 2!

Whilst this may have been an affliction of the original LP, one has to ask why, several years later, it appears on an otherwise excellent reissue pressing - where others in the same series do not exhibit this flaw. Perhaps nobody noticed, but when as lovely and well-made recording as this is let down in this way, it is something of a disappointment - if only to the technically-minded!
Andrew Rose
GANNES Les Saltimbanques (abridged)
Recorded at the Theatre des Champs-Elysées, Paris, April 1953
Originally issued as Pathé DTX 136
Later reissued as Pathé DTX 30141 (used for this transfer)
Matrix nos. XPTX184-21; XPTX185-21B
Transfer and XR remastering by Andrew Rose at Pristine Audio, March 2009
Cover artwork based on a portrait of Louis Ganne (1862-1923)
Total duration: 45:08
©2009 Pristine Audio.


Liliane Berton - Suzanne
Claude Devos - Paillasse
Freda Betti - Marion
Lucien Lovano - Grand Pingouin
Guy Godin - André
Pierre Germain - Malicorne

Raymond Saint Paul Choirs and Orchestra
conducted by Jules Gressier