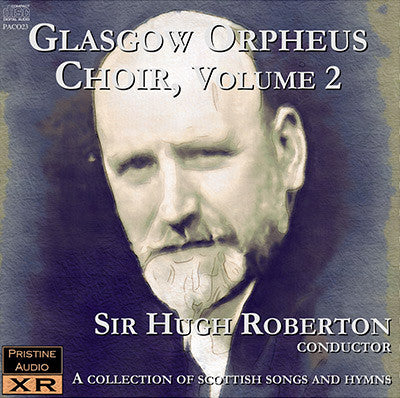 This album is included in the following set
s

:
This set contains the following album
s

:
Producer's Note
Full Track Listing
Cover Art
More Scottish music from the Glasgow Orpheus Choir

Second of two volumes restored and XR-remastered

This is the second of two volumes taken from three ten-inch HMV LP issues of the early 1950's, sent to me in near-mint condition for restoration by Nicolas Hawtrey. They were replayed using a Benz Micro moving coil cartridge, custom-tipped by Expert Stylus Ltd. with their exclusive Paraglide stylus, the result of many years work and research into the ultimate diamond shape and size for the reproduction of mono vinyl. I used two distinct and very different solo choir recordings to create a broad reference for re-equalisation of the LPs, which in their original incarnations required a certain degree of fine-tuning.
Andrew Rose

All In The April Evening Tynan

- Roberton

White Waves on the Water - Plumfield - Roberton
Jesu, Joy of Man's Desiring - Allen - Bach
The Cloud Capp'd Towers - R. J. S. Stevens
The Faery Song - Macleod - Boughton
Far Away (Londonderry Air) - arr. Jozé
The Old Woman - Campbell - Roberton
Go Lovely Rose - Waller - Thoman
O Can Ye Sew Cushions? - arr. Bantock
Iona Boat Song - arr. Roberton
The Blue Bird - Coleridge - Stanford
Mice and Men - arr. Roberton
Kedron - arr. Roberton
In Silent Night Rothery

- Brahms

All Through The Night - arr. Roberton

Recorded late 1940's - 1951
Transferred from HMV LPs DLP 1020. DLP 1128
XR remastering by Andrew Rose at Pristine Audio, February 2008
Duration 40:32