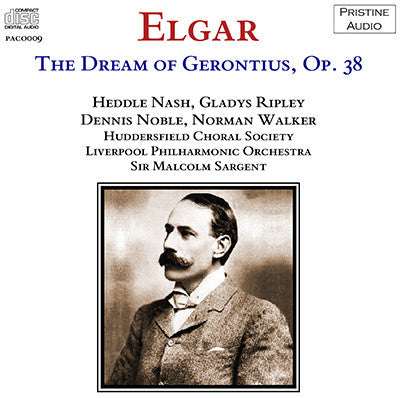 This album is included in the following set
s

:
This set contains the following album
s

:
Producer's Note
Full Track Listing
Cover Art
Elgar's choral masterpiece in one of its greatest recorded performances

I think the Pristine Audio Direct Transfer is absolutely tremendous...
- James Jolly, BBC Radio Three, CD Review
Five short questions for you, dear visitor: Was Elgar England's finest composer? Is The Dream of Gerontius his finest work? Was Sargent's 1945 recording the greatest ever made of this work? Was Heddle Nash the finest Gerontius ever? Was this Sargent's finest hour?
A quick search of the Internet will find you people who'll say yes, probably, or quite possibly as answers to each of these questions, which begs one final question - has this recording ever sounded so good as it does with this new transcription? I will let you draw your own conclusions to that question - try scrolling down and clicking on the play button for a sample from the first Part, as Heddle Nash's Gerontius sings "Rouse thee, my fainting soul" and decide for yourself.
From a restoration point of view I'm particularly pleased with the results here, despite the many hours of work spent fighting the shellac swish that blighted much of the second part of the recording. Sargent's orchestra is full-bodied, clearly recorded without blasting or being shrill, and almost always in perfect balance with the singers. The music, despite it's origin on 24 sides, should be almost continuous throughout - here HMV cleverly overlapped many of the sides, as if anticipating how this could help bring together the recording as a whole at some time in the future.
In circumstances like this I find it helpful to take a reference recording to ensure accuracy both in side changes and in tonal balance, and for this recording I used Benjamin Britten's renowned 1972 Decca recording, with Peter Pears as Gerontius. It certainly has a lovely sound of its own, and of course the recording technology was far superior, but I have to agree with Jonathan Woolf about this earlier recording - overall it's a total success, with Nash in particular almost born to sing the role.
Like Elgar, I am originally from Worcestershire, and I too spent many hours roaming the Malvern Hills, where the composer found such inspiration. Elgar's music has always run through my veins and been a presence in my life - I hope that this recording can bring some of that magic to you as well.
Andrew Rose

ELGAR  The Dream of Gerontius, Op. 38


Heddle Nash, Gladys Ripley,
Dennis Noble, Norman Walker
Huddersfield Choral Society
Liverpool Philharmonic Orchestra
Sir Malcolm Sargent, conductor

Recorded in April, 1945

Released as HMV 78s, C.3435-3446
Matrix numbers: 2ER: 834-857
Takes: All 24 sides first takes except sides 4 & 9 - both second takes

Duration:1hr 30:04

Bill Rosen's Review
With Sargent, who has downplayed and restrained the drama a bit, we are tantalized, interested and ready to go on.
With some rueful glances at the Boult and Barbirolli recordings and even at the composer's great partial recording of 1927, I will go out on a limb and say that this is the greatest performance of Elgar's oratorio that I have ever heard. My heart says it and my head cannot but agree. Let's see why.
The story of "The Dream of Gerontius" is that of a knight who dies in fear but in faith in the first act and then in the second act experiences a dreamlike state in which he prepares for judgment with other souls in Purgatory and is helped by angels for the trial. Not the easiest theme on which to base an 85-minute work. Although Elgar's music is splendid, Cardinal Newman's mystical Roman Catholic text provides many opportunities for a risable and sickly Victorian sentimentality and just plain boredom as the oratorio procedes. Lots of contrast and forward movement are called for. The artistry and sincerity of the tenor playing Gerontius is critical.

The overture is a problem, not because it is inadequate, but because it is such a great work on its own. Like Beethoven's Leonore Overture #3, it already contains within it the essence of the work. After Barbirolli's performance, we have already cried all our tears and are ready to go home. After Boult's, we are inspired to join the Christian Knights and replace Gerontius. In neither case are we ready to sit and listen to the remainder of the work. With Sargent, who has downplayed and restrained the drama a bit, we are tantalized, interested and ready to go on.

In Act 1, there are many fine tenors who play Gerontius. God knows that Peter Pears, in the Britten recording, gets the dying part right. Nicolai Gedda in the Boult recording gives a performance of consummate taste and elegance. Richard Lewis, for Barbirolli, pours out an endless stream of beautiful tenor tone. But Heddle Nash, for Sargent in this recording, IS the knight in every aspect: manly, reverent, weak, frightened, dying, courageous. He has the head and the heart and the voice; there is no comparison.

Act 2 can have its longeurs. Sargent completely avoids this by making careful contrasts between the music for Gerontius, the Angel, the Demons and the chorus. He conducts a seemingly swift-moving version that is, in reality, only four minutes faster than Boult and Barbirolli. The prelude to Act 2, representing the passage between death and transfiguration, is played with such incandescence. The Angel sung by Gladys Ripley, sounds both rapt and fragile. Perhaps Ms. Noble does not summon up the glorious tone that Janet Baker does for Barbirolli, but she sounds like a supernatural being, not a great contralto singing the role of one. The Huddersfield Choral Society has such a variety of color, of light and shade between their comforting of Gerontius in his fear and agony and their martial Roman Catholic certainty of his resurrection that one knows that this music is in their blood. I cannot say that it all goes Sargent's way: there are moment's in Barbirolli that really grip the heart more; there are moments in Boult that inspire one with greater courage and fortitude. But, then at the end of the oratorio, when Heddle Nash, as Gerontius' soul, awaiting judgment, but hopeful of redemption, sings:

"Take me away, and in the lowest sleep there let me be
And there in hope the lone night watches keep"

the effect is so glorious and perfect and such a climax of what Sargent has plotted from the beginning that one feels a true culmination, not just an ending of the work.



Reviewer: Bill Rosen