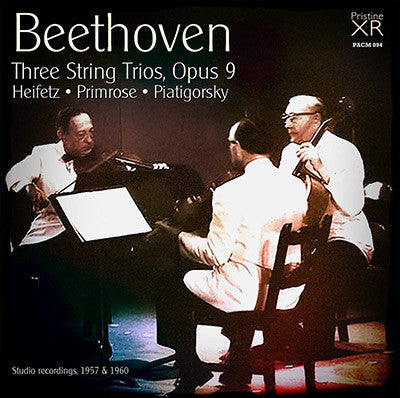 This album is included in the following set
s

:
This set contains the following album
s

:
Producer's Note
Full Track Listing
Cover Art
Historic Review
Heifetz + Primrose + Piatigorsky = three of the finest instrumentalists of the 20th century
New XR remastering reveals the true brilliance of these formerly "dry and hard" recordings
I have taken the somewhat unusual step of including here excerpts from a generally negative review of these recordings (from what appears to have been their first official British release as part of a 3-LP RCA box set in 1976 - see Historic Review tab), to illustrate the overwhelmingly negative effect on the listener's judgement of a series of performances caused by getting things wrong, technically-speaking, in the recording studio.
The Gramophone reviewer correctly identifies a lack of reverberation in the originals. This doesn't mean that dropping his LPs into some kind of echo chamber is going to help! Long before I found this review I felt on first hearing the recordings that some modicum of sympathetic and authentic room acoustics would complement the players to their overall advantage. Happily one is now able to take the acoustics of any number of renowned concert venues around the world and bring something of their unique sound to a recording such as this. The effect is as subtle as you would wish it to be, but suddenly the recordings spring into a life you wouldn't have expected.
What the reviewer identified as "dry and hard" was also a product of frequency imbalances in the recordings. The correction of these using XR remastering also makes a huge difference to the immediate appeal of the sound. Without altering any of the actual notes, the subtle changes I have been able to make in remastering these trio recordings have turned them into recordings and performances you might really want to listen to - for the first time perhaps in over half a century.
Andrew Rose


BEETHOVEN  String Trio in G major, Op.9, No.1


Recorded at Radio Recorders, Hollywood, USA, 27 March 1957
Oiriginally released as RCA LM-2186
Presented in Ambient Stereo

BEETHOVEN  String Trio in D major, Op.9, No.2


Recorded at RCA Studios, Hollywood, USA, 17/22 August, 1960
Oiriginally released as RCA LSC-2563
Presented in Stereo

BEETHOVEN  String Trio in C minor, Op.9, No.3
Recorded at Radio Recorders, Hollywood, USA, 29/30 March 1957
Oiriginally released as RCA LM-2186
Presented in Ambient Stereo

 
Jascha Heifetz   violin
William Primrose   viola
Gregor Piatigorsky   cello
I haven't any information about the provenance of these recordings, which despite an appearance in the USA in the early sixties have not been generally available in this country before, and can only guess that they coincided with public performances. They bear the traces of having been made fairly hastily. The sound is dry and hard and so close to the instruments, particularly to the violin, that one has the impression of microphones devouring it before an acoustic can intervene. Either that or it has been passed through some kind of drying agent to remove all reverberation.
If you can get over this—and frankly I couldn't, since the DG set by the Italian String Trio was at my side as a reminder of what the textures of these pieces should sound like—you can hear three of the century's most illustrious string players striving to bring as much brilliance and intensity to pre-1800 Beethoven as the music can be made to bear... From time to time the restless urgency seems in place: in the quick movements of the C minor Trio of Op. 9, for instance, of which this performance could have been enjoyed a good deal, I am sure, had it been given a chance to sound well... Again one comes back to the sound—cohering so imperfectly that one feels the players must in some way be dissatisfied with the string trio as a medium...
S.P., Gramophone, October 1976 - review of 3-LP UK issue on RCA, including these three recordings
MusicWeb International Review
Three now legendary musicians playing in harmony - they communicate a real sense of pleasure and enjoyment in their music-making
Surprisingly, these recordings made by three of the most illustrious string players of the last century have never to my knowledge been issued on CD. This may be because of the unsatisfactory quality of the original recordings which, when issued as part of a 3 LP collection by RCA in 1976 , were criticised by "Gramophone" as "dry" and "hard", with the instruments far too close to the microphone.
 
Pristine have certainly resolved that problem: their Ambient Stereo re-mastering has given the sound some air and space in order to create a very pleasant and acceptable listening experience of recordings now well over fifty years old.
 
These youthful string trios were the last Beethoven wrote, seemingly preparatory to embarking upon the extended sequence of string quartets which began with the publication of Op.18 in 1801. They bear stylistic similarities to those quartets and although they are not perhaps amongst his greatest works, upon their publication in 1799 the 28 year old composer declared them his best music thus far.
 
They certainly benefit from being played by the three distinguished instrumentalists here, whose secure intonation, depth of tone and ability to shade dynamics subtly are all so much in evidence. They display the requisite sense of interplay and cohesion; there is equal balance between them, no grandstanding or undue prominence from any one instrument and they communicate a real sense of pleasure and enjoyment in their music-making.
 
The vigour and attack of the Adagio opening of the G major trio is striking, signalling the sense of purpose and unanimity which characterises these readings. The following Allegro is remarkable for its thematic elaborations. The second movement is another Adagio but there is no lingering, rather a constant sense of forward movement almost suggestive of restlessness rather than repose. The Scherzo is light and vivacious while the concluding Presto would be rushed were it not for the dexterity of the musicians.
 
The fact that D major trio was recorded three years later is signalled by sound appreciably better than in the two earlier recordings which sandwich it; evidently engineer Andrew Rose had a superior master to begin with so is able to do even more with it. It is the most conservative of the three trios, its genteel stateliness identifying it as pre-1800. The players accordingly adopt a more refined and restrained manner, demonstrating their sensitivity to the demands of the prevailing mode. The Andante is full of pathos, with a marvellous poignant melody played first by the viola underpinned by pizzicato cello, then mid-way Heifetz soars on another wonderfully melancholy tune. The Menuetto is trim and precise, then the mood changes gear for the playful Rondo-Allegro.
 
The reversion to somewhat inferior sound for the C minor trio is immediately noticeable but the ear soon adjusts. It is the most complex and innovative of the three pieces, demanding more of the instrumentalists' abundant virtuosity; perhaps the key is significant, giving notice of Beethoven's seriousness of intent. He seems here to be moving into the Sturm und Drang style we recognise from his later, mature works: the passionate Scherzo and Presto finale are typically angular and surprising but the heart of the work lies in the serene Adagio, played here with the warmth and wisdom of seasoned Beethovenians.
 
These three trios were originally issued on two LPs, Nos. 1 and 3 together on one and No.2 coupled with three Bach Sinfonias and a Schubert Trio, so it is good to have all three on one CD.
 
There have been plenty of recommendable recordings of these works in more modern sound and also some classic accounts such as that by the Grumiaux Trio, but the chief attraction here is the chance to hear three now legendary musicians playing in harmony and for the first time in more than tolerable – indeed very acceptable – stereo sound.
 
Ralph Moore