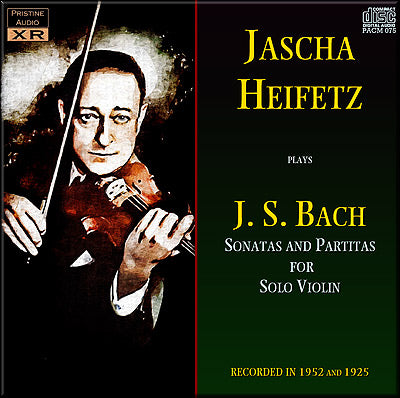 This album is included in the following set
s

:
This set contains the following album
s

:
Producer's Note
Full Track Listing
Cover Art
"Heifetz's greatest achievement in the recording studio"
Bach's solo Sonatas and Partitas in superb new XR remastering
These recordings, remarkably for a violin player who had such a long and illustrious career, represent the only complete set of Bach's Sonatas and Partitas for Solo Violin recorded by Heifetz. Prior to the 1952 recordings he made a handful of recordings in 1935 for HMV which appear to have been unissued at the time in favour of Yehudi Menuhin's discs - records suggest some of Heifetz's 1930s EMI Bach recordings finally saw release in the mid-1970s.
I have also included his very first recording of any of these works, a 1925 early electric which partnered a short piece by Couperin on a single side of a one-off disc which appeared both in the UK on HMV and in the USA on Victor.
The 1952 recording has suffered at the hands of a number of remastering engineers, not least RCA Victor's own - a CD issue of these recordings I've heard can only be described as vile. Hopefully nobody will say the same of this new remastering, which aims to restore a clarity and directness of tone to this wonderful set of performances that has been all-too-often absent elsewhere.
Andrew Rose


BACH Sonatas and Partitas for solo violin, BWV1001-1006
Recorded 21st October 1952 (Sonata No. 1 & Partita No. 3), 22nd October 1952 (Sonata No. 3), 23rd October 1952 (Partita No. 1), 24th October 1952 (Sonata No. 2, Partita No. 2), RCA Victor Studios, Hollywood, California, USA.
First issued as RCA Victor 3 LP set LM 6105.

BACH Partita No. 3 in E major BWV 1006, Menuetts I & II
Recorded 29th December, 1925, Victor Studios, Camden, New Jersey, USA, issued in the USA as Victor 6564 and in the UK as HMV DB945, Matrix Number CVE 34072

XR remastering by Andrew Rose at Pristine Audio, February 2011
Cover artwork based on a photograph of Jascha Heifetz
Total duration: 2hr 9:01


Jascha Heifetz, violin

Gramophone Historic Review
Perhaps these discs are Heifetz's greatest achievement in the recording studio
To my shame, I had not heard these performances before, yet although I would hardly wish normally to listen consecutively to six unaccompanied violin works, I have several times heard these three discs through in rapt fascination. Heifetz is a violinist, not a scholar, and as such probably is not considered highly these days as a Bach player. But so much the worse for the people who do the rating, for these performances are practically as good as the music itself.

Their prime characteristic is an absolute and unflinching clarity which perfectly conveys the music's power and directness—in the complex opening Adagio of Sonata No. 3, for example. Add to this an unswerving integrity of line, even in the fugues which, the Second Partita's Chaconne notwithstanding, are the most astonishing movements of the astonishing works.

Hear, too, the fullness and variety of tone throughout—how many voices the violin is proved to have during the Chaconne! —the sustained expressive force of movements such as the Allemande of Partita No. 1 or the richly elaborated Grave of the Second Sonata, and the wonderful resilience of quick pieces like the Gigue from Partita No. 2, a true sublimated dance.

Perhaps these discs are Heifetz's greatest achievement in the recording studio.
The Gramophone, June 1973