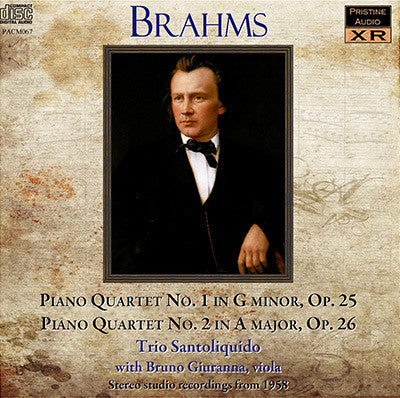 This album is included in the following set
s

:
This set contains the following album
s

:
Producer's Note
Full Track Listing
Cover Art
Excellent Brahms from Trio Santoliquido (plus one)
Two superb early stereo recordings from DGG
The first two of Brahms'
Piano Quartets
rarely feature together on a single disc due to their length. However, the omission of a repeat in the first movement of the
Second Quartet
reduces the duration considerably. Even so, having re-pitched these recordings to concert A440 I found them to be nearly 90 second too long to fit onto a single disc. However, a clear and exact 50Hz tone which ran through the second LP led me to believe that the original pitching, when replayed at an accurate 33 1/3rpm, most probably did represent the pitch the ensemble had tuned to, which was somewhat sharp of standard concert pitch. With the quartets' original pitches were restored, which had the effect of speeding the recordings up, I was relieved to discover I could squeeze both onto an eighty-minute CD with seconds to spare.


Both recordings responded well to XR remastering techniques, which served both to lift the very top end and also to round out what was a somewhat thin lower midrange in the originals. The near-mint first LP disc exhibited a curious if very mild peak distortion through the first minute of both sides, which quickly subsided. The second disc, a slightly later pressing, was immaculate in every respect. Both recordings are amongst the very earliest examples of stereo recordings from Deutsche Grammophon Gesellschaft.

Andrew Rose

BRAHMS Piano Quartet No. 1 in G minor, Op. 25
BRAHMS Piano Quartet No. 2  in A major, Op. 26

Recorded 4-9 August 1958, Beethovensaal, Hannover
Released as Deustche Grammophon SLPM 138014 & 138015
Transfers and XR remastering by Andrew Rose at Pristine Audio, October - November 2009
Total duration: 79:53

Trio Santoliquido:
Ornella Puliti Santoliquido,
piano
Arrigo Pelliccia, violin
Massimo Amfitheatrof, cello
with Bruno Giuranna, viola