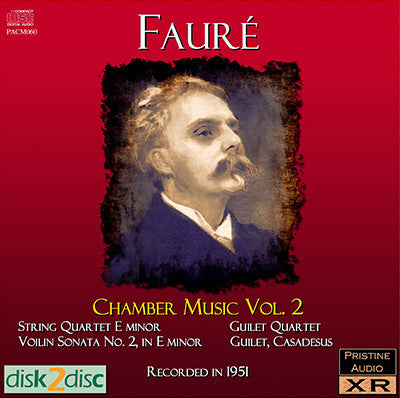 This album is included in the following set
s

:
This set contains the following album
s

:
Producer's Note
Full Track Listing
Cover Art
The Guilet Quartet's Fauré Chamber Music

XR-Remastered for finest sound quality
In Summer, 1953, the Nixa Record Company issued two LPs of Fauré's chamber music and this re-release has been sourced from an original pressing of one of those two discs (the other is intended for next month's release).
Copies of the discs are rare, so the restorer has to work from what he has. Like many such LPs, the pressing quality is indifferent and the disc itself badly worn in places (by the 8 gram 'lightweight' pickups of the time!) and with a huge amount of clicking and swishing which needed considerable work to minimise.
Some residue may still be heard on critical listening; but I think that the artistic performances justify the re-release and I'd urge anyone who isn't familiar with these musical by-ways to give them a try: they're pieces that are well worth getting to know
Peter Harrison


FAURÉ String Quartet in E minor, Op. 121
FAURÉ Violin Sonata No. 2 in E minor, Op. 108
Recorded late 1951 (?) early 1952 by Polymusic
First issued, 1952, in USA on Polymusic 1008
First issued, 1953, in UK by Nixa Record Company Ltd on QLP 4008
Total duration: 45:43


Guilet Quartet:
Daniel Guilet, violin
Henry Siegl, violin
William Schoen, viola
David Soyer, cello


Daniel Guilet,
violin

Gaby Casadesus,
piano