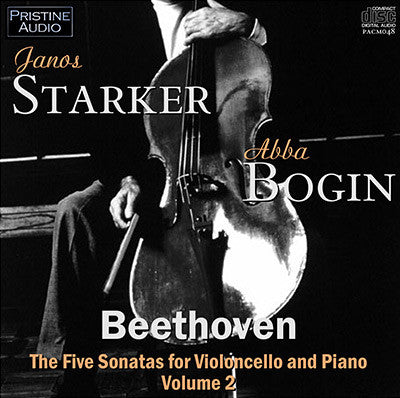 This album is included in the following set
s

:
This set contains the following album
s

:
Producer's Note
Full Track Listing
Cover Art
Starker & Bogin's 1952 Beethoven Cello Sonatas
Volume 2 - the later sonatas, remastered for finest sound quality

Beethoven's five sonatas for cello and piano can be seen as a fascinating document of what are now seen as the three sections of his life as a composer, with three sets, each written during one of these periods.
Thus here we find both mid-period and late Beethoven - the third sonata dates from 1807-8 and the fourth and fifth from 1815.
By the time Beethoven began work on his third Cello Sonata Beethoven was in the midst of an enormously prolific peak - sketches for the sonata were apparently found in a notebook alongside those for his Fifth Symphony and his Piano Trios Op. 70 - and it is regarded as one of the most important works of its kind in the repertoire. It was dedicated to Baron Ignaz von Gleichenstein, an amateur cellist and one of Beethoven's closest friends and advisers from 1807-1810, and in it Beethoven builds on the role he had given in his earlier works to the cello, giving the instrument even greater prominence and using its full, sweeping range to magnificent effect.
The final two sonatas were the last works written by Beethoven for piano and solo instrument; they were dedicated to Countess Marie von Erdödy, a long-time patron of Beethoven and a good amateur pianist. Many of Beethoven's works were played at her house concerts, and she remained loyal to Beethoven in his later years when his music was losing its widespread public appeal.
By this stage Beethoven was almost entirely deaf, and musically had entered the advanced stage which produced the late quartets, which to an extent can be seen as a development from these works. Here we find music with a huge emotional range, music which can delight and baffle in almost equal measure, and which no doubt helped the impression at the time of their composer as something of a mad genius.
These recordings are completed by the earlier two cello sonatas on Volume One which, together with the two Brahms Cello Sonatas, bring together on Pristine Audio the complete recordings by Starker and Bogin as a duo.
Andrew Rose
BEETHOVEN Cello Sonata No. 3 In A Major, Op. 69
BEETHOVEN Cello Sonata No. 4 in C major, Op. 102, No. 1
BEETHOVEN Cello Sonata No. 5 in D major, Op. 102, No. 2
Abba Bogin, pianoforte
Janos Starker, violoncello

Recorded in 1952
Released in the UK as Musical Masterpiece Society LP MMS-2086
Duration 57:44