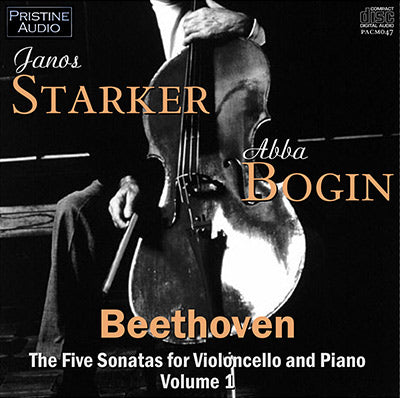 This album is included in the following set
s

:
This set contains the following album
s

:
Producer's Note
Full Track Listing
Cover Art
Starker & Bogin's 1952 Beethoven Cello Sonatas

Volume 1 - the early sonatas, remastered for finest sound quality

Beethoven's five sonatas for cello and piano can be seen as a fascinating document of what are now seen as the three sections of his life as a composer, with three sets, each written during one of these periods.
Thus here we find the earliest of his compositions for this combination, written in1796 for the first cellist of King Frederick William II of Prussia, one Pierre Duport. The sonatas were originally conceived as pieces of piano music with cello accompaniment; the cello's position in the musical pecking order was rather low in the late 18th century, as witnessed in Mozart's Piano Trios, where it is customarily given exceptionally simple lines, following the lower notes of the piano.
Beethoven, however, frees the cello from this subservient role, instead putting the instruments on a more equal footing, and provides some real meat for the soloist to get his teeth into.
The second sonata also inadvertently affected Beethoven's orchestral writing for double bass, as Beethoven's first reliable biographer, Alexander Thayer relates:
"Beethoven had been told that his new friend could execute violoncello music upon his huge instrument, and one morning, when Dragonetti called at his room, he expressed his desire to hear a sonata. The contrabass [double bass] was sent for, and the Sonata, No. 2, of Op. 5, was selected. Beethoven played his part, with his eyes immediately fixed upon his companion, and, in the finale, where the arpeggios occur, was so delighted and excited that at the close he sprang up and threw his arms around both player and instrument"
These recordings are completed by the further three sonatas on Volume Two which, together with the two Brahms Cello Sonatas, bring together on Pristine Audio the complete recordings by Starker and Bogin as a duo.
Andrew Rose

BEETHOVEN Cello Sonata No. 1 in F Major, Op. 5 No. 1
BEETHOVEN Cello Sonata No. 2 in G Minor, Op. 5 No. 2

Abba Bogin, pianoforte
Janos Starker, violoncello

Recorded in 1952
Released in the UK as Musical Masterpiece Society LP MMS-2086
Duration 42:05