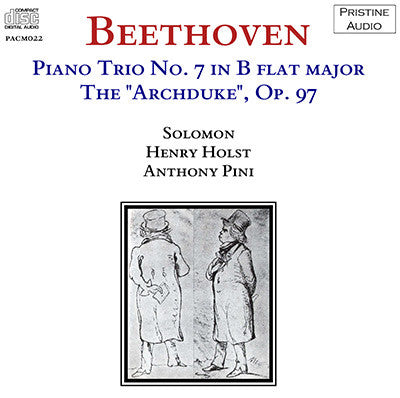 This album is included in the following set
s

:
This set contains the following album
s

:
Producer's Note
Full Track Listing
Cover Art
Solomon, Holst & Pini play Beethoven

Fabulous wartime recording remastered for finest sound quality
There is little doubt that Solomon Cutner - known simply as 'Solomon' - was one of the great exponents of Beethoven. His style tended towards the poetic, yet precise rather than flamboyant or showy, and was tragically cut short by a series of mini-strokes, prior to the 'big one', as he was in the process of recording an extensive Beethoven cycle in the 1950's.

Here we find him on absolute top form with the Solomon Trio. This wonderfully balanced recording of Beethoven's Archduke Trio brings us a performance to truly savour. The Trio operates as a finely balanced unit, each responding to every last nuance of the others, to create a sense of real musical magic.


Andrew Rose

BEETHOVEN Piano Trio No 7 in B flat, Op. 97, "Archduke"
Recorded 9-10 September, 1943, Abbey Road Studio 3, London
Released as HMV 78s, C.3362-3366
Matrix numbers: 2EA 10028-29-30-31-21-33-36-37-38-39
Takes: 5, 6, 5, 4, 3, 5, 5, 5, 5, 6
Duration 36:40
Henry Holst, violin
Solomon, piano
Anthony Pini, cello

Bill Rosen's Review
Achieves a peace and serenity and stillness that is out of the reach of second period Beethoven and most other "Archduke" performers
This is an unusual performance of the "Archduke" Trio. In spite of its high opus number (97), the "Archduke" seemed to me to be centrally located in Beethoven's second period. Though not as imperious as the "Eroica" symphony , the "Emperor" concerto or the "Rasoumovsky #1" quartet, the "Archduke" still had given me the impression for the 55 years of my listening life of a flag-bedecked royal cruiser skimming the blue waves with existential certainty. My first hearing of the first movement of this performance led me to feel that the royal cruiser had been refitted as a slim, swift cutter and I was having none of it. An immediate second hearing, however, made me realize that the cutter's destination was most interesting: it led out of Beethoven's 2nd period and joined its companions at the threshold of Beethoven's 3rd period: the 10th violin sonata, Op. 96, the 4th and 5th cello sonatas, Op. 102, the 28th piano sonata, Op. 101.
So this performance of the "Archduke", led by Solomon's exquisitely lapidary pianism, emphasizes head over heart. There is still much excitement, as will be found in the recapitulation of the first movement and all through the scherzo. But the slow movement at a flowing tempo achieves a peace and serenity and stillness that is out of the reach of second period Beethoven and most other "Archduke" performers. I still like my "Archduke" with dollops of whipped cream and I will not give up my Cortot/Casals/Thibaud nor my Istomin/Stern/Rose, but this "thinking man's Archduke" with its appropriately enhanced sonics will remain on my shelves.