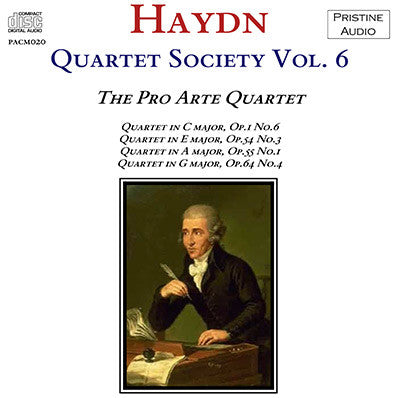 This album is included in the following set
s

:
This set contains the following album
s

:
Producer's Note
Full Track Listing
Cover Art
Sixth Volume of The Haydn Quartet Society

The Pro Arte Quartet, remastered for finest sound quality


To state that Haydn, more than perhaps any other composer, is responsible for the String Quartet as we know it - and from there the many other instrumental variations of chamber music of the Classical, Romantic and Modern periods - seems a very bold and sweeping comment. And yet it was Haydn who freed his quartets from the tyranny of the continuo and allowed his parts to move freely, without relying on the 'gravity' of a bass. It was Haydn who more or less invented Sonata form, and who developed the beautiful part-writing, following on from his own studies into earlier vocal polyphony, which is the essence of the string quartet medium.
Of his many quartets - one website lists 78 works for String Quartet by or attributed to Haydn - the Pro Arte Quartet chose 29 works to record in their ground-breaking 8-volume Haydn Quartet Society series, made for HMV between 1931 and 1938. These cover the full range of his output, from Op. 1 No. 1 (1762) to the two Opus 77 quartets of 1799 (the final Op. 103 remained unfinished).

Andrew Rose

HAYDN String Quartet in C major, Op.1 No.6, Hob.III:6

HAYDN String Quartet in E major, Op.54 No.3, Hob.III:59 "Tost I"

HAYDN String Quartet in A major, Op. 55 No.1, Hob.III:60 "Tost I"

HAYDN String Quartet in G major, Op.64 No.4, Hob.III:66 "Tost II"

Recorded Abbey Road Studio 3, London
Recorded in 1936, released as HMV 78s, D.B.3115-3121
Matrix numbers: 2EA: 4510-11 4466-67-68-69 4462-63-64-65 4506-07-08-09
Takes: All first take recordings
Duration 57:56
Bill Rosen's Review
Crisp and brilliant
Both the sound and the performance of these four quartets emerge crisp and brilliant on this release. All the sec, witty, minimalist virtues inherent but not always evident in the original recording have been revealed in this reprocessing.
Opus 1 #6 shows that there is no such thing as immature Haydn. A jolly, very short allegro gives way to a minuet followed by a slow movement on muted strings with a pizzicato accompaniment. A four square allegro moderato ends with a more rapid variation.
Opus 54 #3 begins with a mellow but not too rapid allegro, undergoes a highly modulatory development and a very irregular recapitulation. A walking andante featuring first violin figurations leads to a thrusting powerful minuet. The opening stealthy theme of the finale brings expectations of powerful developments ahead and so it is with this monothematic tour de force.
Opus 55 #1 introduces one of Haydn's most wayward and roving first movements where sonata form waypoints are difficult to locate. A rather conventional slow movement leads to a charming, trilling minuet. The finale is rapid, clothed in textual and harmonic fantasy and filled with contrapuntal touches.
Op 64 #4 propels a striding theme and subjects it to inexhaustible harmonic changes. A rather conventional (for Haydn) minuet leads to an andante with variations. The finale is very dynamic and swift and ends off balance (at least it caught this listener off balance).
This series, perhaps extending to eight volumes, will surely be one of the mainstays of the Pristine Audio catalog. Those who have only heard these performances in their flat EMI LP incarnation can have no idea of the artistic riches that have been set free herein.

Bill Rosen