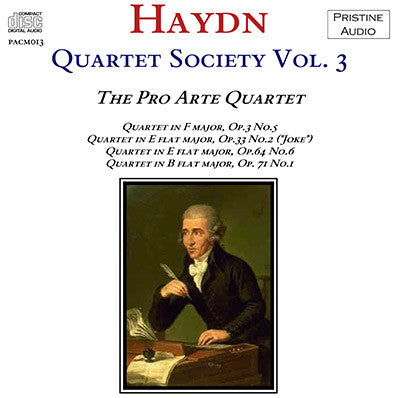 This album is included in the following set
s

:
This set contains the following album
s

:
Producer's Note
Full Track Listing
Cover Art
Third Volume of The Haydn Quartet Society

The Pro Arte Quartet, remastered for finest sound quality

To state that Haydn, more than perhaps any other composer, is responsible for the String Quartet as we know it - and from there the many other instrumental variations of chamber music of the Classical, Romantic and Modern periods - seems a very bold and sweeping comment. And yet it was Haydn who freed his quartets from the tyranny of the continuo and allowed his parts to move freely, without relying on the 'gravity' of a bass. It was Haydn who more or less invented Sonata form, and who developed the beautiful part-writing, following on from his own studies into earlier vocal polyphony, which is the essence of the string quartet medium.
Of his many quartets - one website lists 78 works for String Quartet by or attributed to Haydn - the Pro Arte Quartet chose 29 works to record in their ground-breaking 8-volume Haydn Quartet Society series, made for HMV between 1931 and 1938. These cover the full range of his output, from Op. 1 No. 1 (1762) to the two Opus 77 quartets of 1799 (the final Op. 103 remained unfinished).

Andrew Rose

HAYDN String Quartet Op. 3, No. 5 in F major, Hob.III:17

HAYDN String Quartet Op. 33, No. 2 in E♭ major, Hob.III:38 "The Joke"

HAYDN String Quartet Op. 64, No. 6 in E♭ major, Hob.III:64

HAYDN String Quartet Op. 71, No. 1 in C minor, Hob.III:69 "Apponyi"

Recorded Abbey Road Studio 3, London
Recorded in 1933 and originally released as HMV DB12159-2165
Matrix Numbers: 2B5500-I, 2B5501-I, 2B5496-II, 2B5497-II, 2B5498-II, 2B5499-I, 2B5503-I, 2B5504-I, 2B5505-I, 2B5506-I, 2B5507-I, 2B5508-I, 2B5509-II, 2B5510-I
(Duration 59'25")



The Pro Arte Quartet:
Alphonse Onnou, violin
Laurent Halleux, violin
Germain Prevost, viola
Robert Maas, cello

Bill Rosen's Review
There is something about the Pro Arte that sets forces in motion in me...
There is something about the Pro Arte performances and their life-giving enhancements by Pristine Audio that has provided me a much greater insight at the age of 73 into the unfathomable depths of the world of Haydn's quartets. They are different in kind from Mozart and Beethoven and Schubert and I despair from ever summing them up. The best I can do is to say is that they are "genius at cosmic play". They are, of course, well served by the modern quartets--the Mosaiques and the Juilliard, in particular--but there is something about the Pro Arte that sets forces in motion in me.
Op. 3 #5 is not by Haydn but by Roman Hoffstetter, who, if he is not Haydn, should be. A perky, irrepressible allegro leads to the famous serenade, which the Pro Arte plays very straight. A forceful minuet then is followed by a nippy little theme which breaks out of its cage and does some big things, a typical Haydn trademark. Fess up, Roman, where did you get the manuscript?
Op. 33 #2 is a very inventive work that opens with a large, swinging theme. Strong contrapuntal and harmonic development lands us at one of Haydn's favorite tricks: the False Recapitulation! A little more devopment and we get the real recapitulation which is filled with more development. A minuet with surprises and a waltz-like trio is followed by a serious hymnlike slow movement with fortissimo interjections. Finally, a real triumph, a jolly presto made from only one theme--one of Haydn monothematic finale marvels. What a work!
Op. 64 #6 features a mellow theme subjected to a strong contrapuntal development and then even worked over some more in the recapitulation. The second movement is a 3-part solemn adagio punctuated by a string caprice. An unsettled minuet is paired with a trio with very high harmonics. The finale has a skittish, nondescript theme which is always a signal in Haydn that all Hell will break loose and boy does it ever.
Finally, Op. 71 #1 begins with five chords announcing a looselimbed theme which goes through more adventures than Rambo. A very beautiful and harmonically advanced slow movement follows. A mellow, traditional minuet leads to a coruscating presto finale in sonata form. The development is so fast and serious that while I was looking for the recapulation, the movement and the quartet ended soft and quicksilver.

Bill Rosen