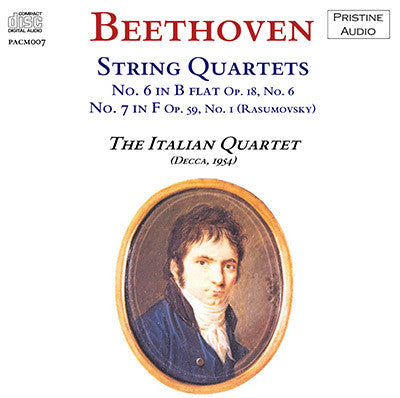 This album is included in the following set
s

:
This set contains the following album
s

:
Producer's Note
Full Track Listing
Cover Art
The Italian Quartet masterful in Beethoven

These two String Quartets, written just 6 years apart in 1800 and 1806 respectively, came at a time of huge creativity for Beethoven, which was to include the first three symphonies, numerous piano and violin sonatas, the Third Piano Concerto and many other works. They were followed in 1807 by the 4th Symphon and in 1808 by the 5th and 6th Symphonies.
Beethoven's first nine string quartets were written in two groups - the six of Op. 18 and the three "Razumovsky" quartets of Op. 59, and here we leap from the last of the first set to the first of the second set in two beautiful Decca recordings from 1954, superbly remastered for Pristine Audio by Peter Harrison at disk2disc.
It is astonishing to read, when one listens to these interpretations, that these recordings were not particularly highly regarded at the time. Perhaps that explains their failure to be reissued until now. But we like them a lot - and we think you will too!

Andrew Rose

BEETHOVEN String Quartet No.6 in B flat Op.18, No.6

BEETHOVEN String Quartet No.7 in F Op.59, No.1
Recorded July 1952, Santa Cecilia, Rome
Issued as UK Decca LXT2811 & LXT2856
Duration 68:24


Paolo Borciani, violin
Elisa Pegreffi, violin
Piero Farulli, viola
Franco Rossi, cello