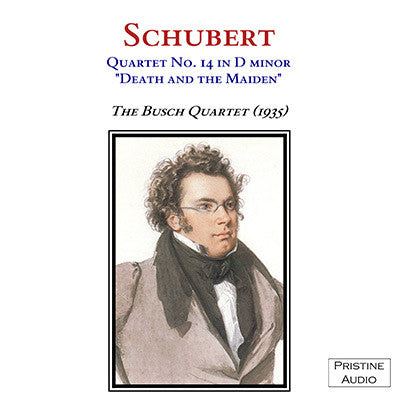 This album is included in the following set
s

:
This set contains the following album
s

:
Producer's Note
Full Track Listing
Cover Art
The classic Busch Quartet 'Death & The Maiden'
Remastered for finest sound quality
Despite this quartet receiving so many recordings that more than fifty are in the current catalogue, as reviewer Andrew Clements pointed out in The Guardian (June 15, 2001): "One of the earliest remains one of the best; the 1936 performance by the Busch Quartet, which, for its heartfelt purity and naturalness, sets a benchmark against which all subsequent accounts need to be measured." Well now you can hear this benchmark in a brand new restoration, sounding better than ever before!
Andrew Rose
 SCHUBERT String Quartet No.14 in D minor, D.810, "Death and the Maiden"


Recorded Abbey Road Studio 3, London, 16 October, 1936
Originally released as HMV 78s, DB. 2387-2390
Matrix numbers: 2EA535-IIA, 2EA536-I2EA537-III, 2EA538-II, 2EA539-II, 2EA540-1, 2EA541-I, 2EA542-II
Duration 30:32