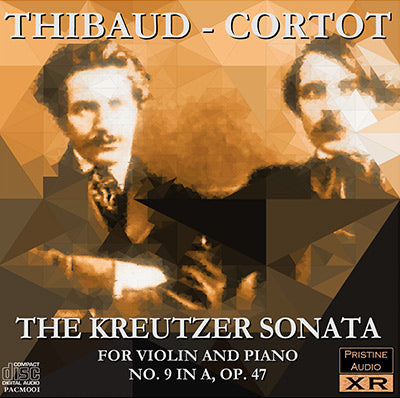 This album is included in the following set
s

:
This set contains the following album
s

:
Producer's Note
Full Track Listing
Cover Art
Thibaud and Cortot's Classic 1929 Recording

XR remastered for finest sound quality
When I initially revisited this recording and gave it the Pristine Audio Natural Sound treatment I was delighted with the sound quality I achieved - but ultimately decided a completely new restoration might yield even better results. Hence this 2007 restoration and remastering, direct from the original 78s.
Perhaps the most popular Violin Sonata of all time gets a fabulous treatment here by two of the most eminent chamber musicians of the twentieth century. Every single note of this superb recording is a joy to hear as the musicians draw you into this sublime work. As Robert Stumpf II said in a review of this performance at Classical Net, "...this is the real thing. The players here are making music, not just playing it."
Andrew Rose

BEETHOVEN Violin Sonata No. 9, Op. 47
Recorded 27, 28th May 1929, Salle Chopin & Salle Pleyel, Paris
Issued as 4 HMV 78s, D.B.1328-D.B.1331
Matrix numbers 2-08068 - 2-08075, takes 3, 2, 3, 1, 2, 1, 2, 3