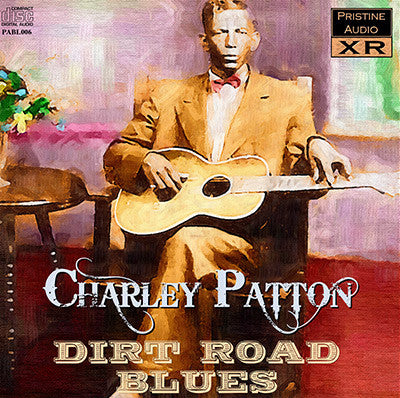 This album is included in the following set
s

:
This set contains the following album
s

:
Producer's Note
Full Track Listing
Cover Art
20 Classic Recordings newly remastered
All tracks selected by members of The Blindman's Blues Forum
When I first started issuing remastered Blues recordings, almost immediately requests started coming in for a remastering of Charley Patton, more than any other performer. I knew I had an old Patton CD on the shelf somewhere but didn't recall much about the sound quality or the music, to be frank.
When I put the disc on (and I don't intend to tell you which one it was!) I remembered why I was so ignorant of Patton's music - the sound was absolutely dreadful. A few days later, requests on Blues forums for Patton were being met with comments along the lines of "there's no point" and "it can't be done". I felt I knew what they were talking about!
So he went on the back-burner - I started to acquire suitable source material but for neary six months avoided making a real start, beyond a few preliminary tests. Meanwhile I found myself working on other, almost equally difficult material, building up a new repertoire of remastering tricks and techniques, until finally I felt ready to see whether I could do Patton justice.
The original material is rough - some worse than others. Where I've had a choice of takes I've generally gone for the better quality sound, hence the inclusion of the inussued out-take of "Elder Green Blues" rather than the version Paramount decided to release on 78rpm disc.
As with our Blind Lemon Jefferson release, I turned to the experts to democratically choose the 20 tracks which appear here. They vary both musically and in terms of sound quality quite widely, and certainly provide an excellent introduction to Patton's music. In many cases the start of the discs are noisiest, settling down after perhaps 30 seconds or so as the music often starts to pick up speed and energy.
Musically many of these tracks are incredible. Patton seems capable of supplying two voices in call/answer mode, whilst playing what sounds like three separate guitar lines and supplying a percussion section - all at the same time. His singing style, often slurring the words beyond recognition (though most can be found online if you search for his lyrics) contrasts with the clearly comprehensible speaking voice heard on a number of tracks, and displays a wide and varied range of style and technique.
My aims in carrying out this particular remastering were two-fold: to clear away as much of the 'crud' of noise and distortion as possible, and to re-equalise the sound to make everything both clearer and more realistic.
In both of these aims the XR remastering technique brings with it clear benefits - and here follows the really technical bit. Using a three-hour-long compilation of dozens of different male blues singers, covering a wide range of music and all accompanied by acoustic guitar, I generated an average frequency spectrum with which to guide the re-equalisation, which allows us to counteract many of the tonal flaws in the original recording equipment. Then closely-targetted noise reduction strips away swathes of noise, pushing the NR to the limits of what it can do alone. From this I can generate a new soundprint for the song with which to re-equalise once more the original Patton recording, this time at much finer resolution. This allows the equalisation to act as a secondary, noise-reducing filter as well as re-setting the tonal balance of the music as already described. After this equalisation it's now possible to use regular digital noise reduction to dig even further into the disc noise, thus revealing more of the sound of Patton and his guitar ever before.

Andrew Rose

1 Screamin' And Hollerin' The Blues (14/6/29) 3:01
2 Down The Dirt Road Blues (14/6/29) 3:01
3 Pony Blues (14/6/29) 3:02
4 It Won't Be Long (14/6/29) 3:21
5 Pea Vine Blues (14/6/29) 3:06
6 Tom Rushen Blues (14/6/29) 3:09
7 A Spoonful Blues (14/6/29) 3:15
8 Shake It And Break It (But Don't Let It Fall, Mama) (14/6/29) 3:08
9 Elder Green Blues (Oct. 1929) 3:05
10 Circle Round The Moon (Oct. 1929) 2:35
11 Some Of These Days I'll Be Gone (Oct. 1929) 2:52
12 When Your Way Gets Dark (Oct. 1929) 3:10
13 Heart Like Railwood Steel (Oct. 1929) 2:52
14 Jim Lee, Part 1 (Oct. 1929) 3:01
15 High Water Everywhere, Part 1 (Oct. 1929) 3:00
16 Rattlesnake Blues (Oct. 1929) 2:49
17 Some Summer Day (June 1930) 3:03
18 Moon Going Down (June 1930) 3:18
19 Dry Well Blues (June 1930) 3:22
20 Revenue Man Blues (31/1/34) 2:38