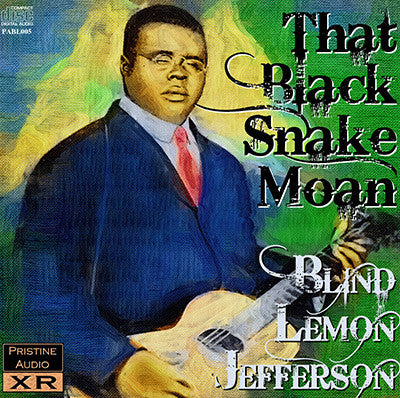 This album is included in the following set
s

:
This set contains the following album
s

:
Producer's Note
Full Track Listing
Cover Art
20 Classic Recordings newly remastered
As selected by members of The Blindman's Blues Forum
This collection has to be one of the most challenging restoration and remastering tasks I've ever undertaken. Paramount Records was notorious for its poor recordings and especially poor pressings, which were cheaply made, in-house, for perhaps the poorest mass audience in America, for whom the term 'disposable income' would probably have been unknown.
To compound this problem, Paramount melted down all of their metal masters during the Great Depression in order to try and raise funds, though even this was was not enough to save them from closure in 1935.
Since then their recordings of some of the greatest early Blues artists have challenged both restorers and listeners - even at their very best, some are virtually unlistenable. The selection presented here is based upon an informal poll of contributors to an excellent (bu now alas defunct) online Blues forum, The Blindman's Blues Forum, and includes a number of sides which were recorded more than once. In most cases I've chosen the least bad (I hesitate to use the word 'best' in this context) pressing to work from - with the sole exception of the title track, which stems from the original 1926 Paramount release and not the later 1927 OKeh re-recording.
My chief aim here has been to address often dreadful tonal imbalances, bringing both greater warmth and clarity to the singing and playing, using the latest technologies to make a marked improvement upon previous attempts to remaster these sides. I think I can claim at least a partial victory here - but the listener should be aware that, with any recordings of the kind of original quality to be found here, there will perhaps always remain severe constraints as to what is possible. As such the track order here is designed to be as easy as possible on the listener's ears, rather than following any chronological order.

Andrew Rose

1 Pneumonia Blues (24 Sept. 1929) 3:26
2 Long Lonesome Blues (c. May 1926) 3:07
3 Southern Woman Blues (24 Sept. 1929) 3:13
4 That Crawlin' Baby Blues (24 Sept. 1929) 2:48
5 D. B. Blues (c. Aug. 1928) 2:50
6 How Long How Long (c. July 1928) 2:51
7 Jack O' Diamond Blues (c. May 1926) 2:55
8 Lonesome House Blues (c. Oct. 1927) 2:32
9 Rabbit Foot Blues (c. Dec. 1926) 3:02
10 Matchbox Blues (14 March 1927) 2:59
11 'Lectric Chair Blues (c. Feb. 1928) 2:38
12 Easy Rider Blues (c. April 1927) 3:00
13 Shuckin' Sugar Blues (c. Nov. 1926) 3:10
14 See That My Grave's Kept Clean (c. Feb. 1928) 2:59
15 Stocking Feet Blues (c. Nov. 1926) 3:13
16 That Black Snake Moan (c. Nov. 1926) 3:12
17 Hangman's Blues (c. Aug. 1928) 3:30
18 Wartime Blues (c. Nov. 1926) 3:14
19 Bad Luck Blues (c. Dec. 1926) 2:56
20 Sunshine Special (c. Oct. 1927) 2:44

Pristine's Review
Forum comments on this release
 "What can I say Andrew, this is Lemon like I've never heard him before..."
"it sounds darn good to me!"
"Very happy with it so far. It is a lot cleaner than the best BLJ disc I have..."
"You've certainly made them a lot more listenable - both in terms of the general crackle and the harshness of the vocals when he hits the top of his volume range. With any restoration job, you worry about the loss of musical information and dynamics along with the noise, but you seem to have got a great balance here. I'll be placing my order..."