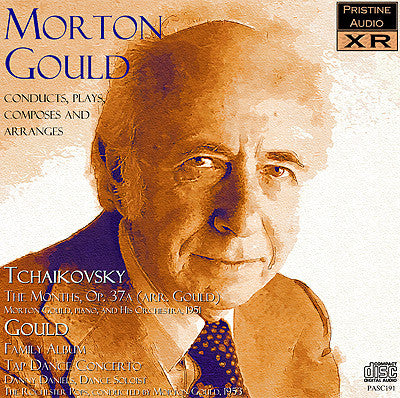 This album is included in the following set
s

:
This set contains the following album
s

:
Producer's Note
Full Track Listing
Cover Art
Morton Gould - an American all-rounder - three rare recordings
Showcasing Gould as pianist, composer, arranger and conductor

NB. Our transfer of "September" from The Months features in the Terrence Malick film "To The Wonder" (2012)

It's not often that one is required to de-click a tap dance recording, and Morton Gould's Tap Dance Concerto is the first of only two such works I've been able to track down. Fortunately it turned out to be reasonably simple to distinguish between intentional clicks and the by-products of LP age! It's an unusual work, which manages to work remarkably well in an audio-only incarnation - Gould wrote out the tap score simply as rhythm, requiring the dance soloist to choreophraph as he or she sees fit. Naturally there's something of a Broadway or film score feel about some of the piece, with jazzy syncopations and a moderately-sized orchestra.
Another rare work by Gould is what the Columbia LP notes describe as "a nostalgic, witty and charming glance back at 'the old days'". As with the Tap Dance Concerto, it's filled with melodies and harmonies which would have easily worked as a film score, and indeed, Gould's programme notes do suggest the pictures to go with the music - including an entire movement inspired by old movies:
1. Outing in the Park. Family picnic - games - skating - distant band music
2. Porch Swing on a Summer Evening. Gently swaying and creaking in the peaceful dusk.
3. Nickelodeon. Old time movies - the comic hero - the villain - heroine in distress - hero vs. villain - the chase - victory - virtue triumphant
4. Old Romance. A pressed flower - faded picture - the sentiment and mystery of an unfulfilled romance
5. Horseless Carriage Galop. Cranking - hazardous going - cries of "Get a horse", breakdown - horse trots unconcernedly - scared by horn - dashes away - machine starts up again in noisy triumph.
The first work on this collection of recordings, however, brings us two entirely different sides of Gould - as an expert arranger, his orchestration of Tchaikovsky's work for solo piano, The Months (known more commonly as The Seasons), is a masterpiece long overdue for revival. Here we also get to hear Gould at the keyboard, from where he directed the orchestra in this recording.
As with the two Gould compositions, the Tchaikovsky is both excellently recorded and ravishingly played.
Andrew Rose
TCHAIKOVSKY The Months, Op. 37a
(arr. for piano & orchestra: Gould)
Morton Gould, piano
Morton Gould and His Orchestra
Recorded at 30th Street Studio, New York City,
5-7 December 1951
First issued on Columbia ML 4487



GOULD Family Album
GOULD Tap Dance Concerto
Danny Daniels, Dance soloist
The Rochester 'Pops'
conducted by Morton Gould
Recorded Rochester, New York, 19th January 1953
First issued on Columbia ML 2215

Transfers by Edward Johnson
Restoration and XR remastering by Andrew Rose, September 2009
Cover artwork based on a photograph of Morton Gould

Total duration: 69:27

Fanfare Review
A very engaging and enjoyable disc that displays the extraordinary talents of this multifaceted American musician
This disc vividly showcases the many talents of Morton Gould. Brilliant conductor and pianist, composer of serious concert and ballet music, composer of Broadway shows, popular songs, and film and television scores, Gould's body of work rivals and, in some ways, even surpasses those of say, Leonard Bernstein and Andre Previn, to name but two whose careers have been equally diverse. Yet the fame and accolade enjoyed by his more celebrated colleagues somehow eluded Gould. Despite winning numerous awards, including a 1994 Kennedy Center Honor and the 1995 Pulitzer Prize, Gould seems to have been somewhat dismissed within the classical music community as a highly skilled, but ultimately uninspired craftsman. Even the Pulitzer win (for his Stringmusic) was seen by many as being more of a "lifetime achievement award" than for the specific work receiving the prize. Yet an examination of his life's work reveals a brilliant mind that produced exceptional music in a wide variety of genres.
Gould wrote several marvelous ballet scores, the best of which—Fall River Legend and Interplay—can hold their own with those of Aaron Copland. His serious orchestral music, written in a broad range of styles, is at least on par with that of Howard Hanson, Roy Harris, and Norman Dello Joio, while the best of his lighter works are the equal of those of Leroy Anderson. Perhaps Gould's downfall may have been that he was just too gifted in too many different areas to concentrate on developing any one of them to the absolute highest level.
The original music on this disc represents the lighter side of Gould. Family Album is a wonderfully endearing piece of homespun Americana. Each of its five movements—"Outing in the Park," "Porch Swing on a Summer Evening," "Nickelodeon," "Old Romance," and "Horseless Carriage Galop"—is a charming vignette, perfectly evoking the nostalgia and simplicity of small town American life. Gould composed not one, but two concert works for tap dancer and orchestra. The first of the two, Tap Dance Concerto from 1952, is presented here. (A second, Hoofer Suite, came four years later.) Though the work contains some attractive music, the constant clatter of the dancer's taps wears on one's nerves after a bit. At a live pops concert, I can well imagine that Tap Dance Concerto might be a highly entertaining novelty, but as a pure listening experience, it just doesn't work.
The disc opens with Gould's masterful orchestration of Tchaikovsky's delightful piano work The Months [usually called The Seasons]. Indeed, Gould's brilliant transcription is so idiomatically "right" that one could be excused for mistaking the work for a Tchaikovsky original. Especially effective are the rustic reeds of "July, Song of the Reaper" and the blazing brass of "September, Hunter's Song." Gould even shows admirable restraint in his tasteful use of sleigh bells in "November, Troika" (Sleigh Ride). My only quibble is in Gould's decision to include a prominent piano part in the orchestration, in effect turning the work into a 12-movement concerto. I would have preferred a purely orchestral treatment.
Morton Gould's Orchestra and the Rochester "Pops" play splendidly; with Gould himself at the helm, as well as serving as his own piano soloist on the Tchaikovsky, one must assume these readings to be authoritative. The vintage 1950s mono recording sounds just fine, with a wide frequency range and vivid detailing. All in all, a very engaging and enjoyable disc that displays the extraordinary talents of this multifaceted American musician.

Merlin Patterson
This article originally appeared in Issue 33:4 (Mar/Apr 2010) of
Fanfare
Magazine.