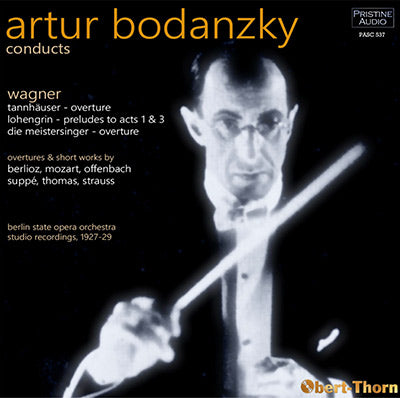 This album is included in the following set
s

:
This set contains the following album
s

:
Producer's Note
Full Track Listing
Cover Art
Through an accident of history, Artur Bodanzky became one of the most well documented conductors of his generation, with several complete recordings (or, as complete as his controversial cuts would allow) of his Metropolitan Opera broadcasts being preserved on acetate discs and disseminated through LP and CD releases. However, with only two exceptions (Fidelio, Der Rosenkavalier), they center on the mature operas of Richard Wagner, several of them in multiple versions. In order to get a more rounded view of his artistry, one must turn to his commercial recordings, which have seen scant availability since the 78 rpm era. (Indeed, to my knowledge, there has never been any extended-play reissue devoted to Bodanzky's studio recordings before, with only the Lohengrin Act 1 Prelude turning up on a couple conductor compilations.)
Bodanzky was born in Vienna in 1877, studied at the Conservatory there, and joined the Vienna Court Opera Orchestra as a violinist during Mahler's reign as music director. He later became an assistant to (and friend of) the composer, and held conducting posts in Prague and Mannheim before the outbreak of the First World War. In 1915, upon a recommendation from Busoni, Toscanini hired him for the Metropolitan Opera in New York. He went on to head the German wing there until his death in 1939.
Bodanzky's first recordings were made in 1918 for Columbia with the Metropolitan Opera Orchestra. Probably due to the virulently anti-German feeling in America during the First World War, the selections focused on orchestral excerpts from French and Italian operas. Two years later, Bodanzky recorded several sides for Pathé with the New Symphony Orchestra, an ensemble which soon after was absorbed by the New York Philharmonic. Between 1920 and 1925, he made an extensive series of piano roll recordings for Ampico, conducting duo-pianists (including Arthur Loesser and future Met conductor Wilfred Pelletier) in symphonic repertoire, including complete versions of the Beethoven Fifth, Schubert "Unfinished" and Dvořák "New World" symphonies, as well as overtures and short works.
The final and most important series of commercial disc recordings Bodanzky undertook were made in Berlin for the Lindström labels, Odeon and Parlophon, between 1927 and 1929. The ensemble was composed of members of the Berlin State Opera Orchestra, and the repertoire centered on German and French opera and operetta overtures, waltzes and short works. Bodanzky's complete commercial recordings of Wagner, which are presented here in their entirety, come from these sessions. Throughout, the hallmarks of Bodanzky's approach – generally rapid tempi and tight ensemble playing – are as apparent here as in his much-admired Met broadcasts.
Mark Obert-Thorn
1. WAGNER: Tannhäuser – Overture (13:10)
Recorded 1 May 1928 ∙ Matrices: xxB 8073/6 (Odeon O-8348/9)
2. WAGNER: Lohengrin – Prelude to Act 1 (8:13)
Recorded 9 September 1927 ∙ Matrices 2-20333/4 (Parlophon P-9150)
3. WAGNER: Lohengrin – Prelude to Act 3 (3:13)
Recorded 10 September 1927 ∙ Matrix xxB 7786 (Odeon O-8321)
4. WAGNER: Die Meistersinger von Nürnberg – Overture (9:02)
Recorded 10 September 1927 ∙ Matrices xxB 7783/5 (Odeon O-8320/1)
5. MOZART: Die Zauberflöte – Overture (6:38)
Recorded 30 April 1928 ∙ Matrices 2-20758/9 (Parlophon P-9829)
6. BERLIOZ: The Damnation of Faust – Hungarian March (3:31)
Recorded 1 May 1929 ∙ Matrix 2-20917-2 (Parlophon P-9476)
7. THOMAS: Mignon – Overture (8:23)
Recorded 1 May 1929 ∙ Matrices xxB 8323/4 (Odeon O-6739)
8. OFFENBACH: Orpheus in the Underworld – Overture (8:25)
Recorded 29 April 1929 ∙ Matrices 2-20914/5 (Parlophon P-9405)
9. SUPPÉ: Morning, Noon and Night in Vienna – Overture (7:13)
Recorded 29 April 1929 ∙ Matrices 2-21387/8 (Parlophon P-9403)
10. J. STRAUSS II: Die Fledermaus – Overture (8:03)
Recorded 30 April 1928 ∙ Matrices 2-20760/1 (Parlophon P 9449)
Artur Bodanzky ∙ Berlin State Opera Orchestra
Producer and Audio Restoration Engineer: Mark Obert-Thorn
Cover artwork based on a photograph of Artur Bodanzky

Total duration:  75:51