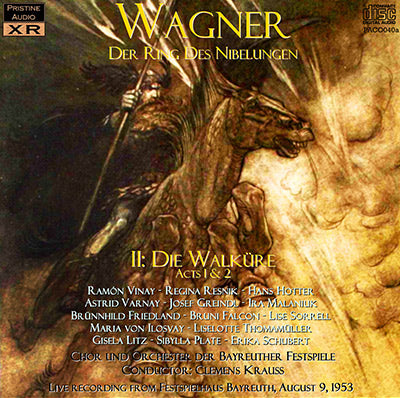 This album is included in the following set
s

:
This set contains the following album
s

:
Producer's Note
Full Cast Listing
Cover Art
One of the greatest recorded performances of Die Walküre
An astonishing sonic resurrection of this all-time classic - superb in all respects
A few short weeks before this recording was issued we took our first tentative steps in the remastering of this, one of the greatest Ring cycles of all time, with our issue of Das Rheingold. Noting that the entire cycle was available elsewhere at budget price, the decision to spend the enormous time and effort involved in producing a full XR remastering of these increasingly lengthy operas was taken with some trepidation. I wanted to be absolutely sure that I could bring a major transformation to the sound quality of the recordings - one which not only satisfied me, but also the legions of Wagner lovers who already knew these recordings well.
The responses to that first Rheingold issue were nothing if not encouraging:
"...the Krauss is my favourite Ring of the moment, and I own it in two other incarnations, so I am in a good position to judge the improvements that Andrew Rose has achieved. The sound is more open and focused than ever before and it is a real treat to hear the finest singers of their generation sing their signature roles in a faithful representation of the Bayreuth 'noise'. The audio spectrum has been cleaned at the top and opened out at the bottom. Hans Hotter sings his best Wotan, slightly more sensitively than for Keilberth in the Testament stereo Ring, and in far fresher voice than for Solti in the 1960s. Astrid Varnay is marvellous as Brunnhilde, and has the benefit of really attentive, flexible conducting. Clemens Krauss' approach may not be to everyone's taste, being at the other end of the tempo spectrum to Knappertsbusch, but to my ears the naturalness of what he does serves the composer without drawing attention to itself..."
"...I just downloaded and played he 53 Krauss Rheingold that you recently released. it is utterly fantastic! Much more alive than the CDs out there. When will Die Walkure be released?..."
"Yesterday I downloaded your XR remastering of Das Rheingold. What a superb job you have done with it. I own the Krauss Ring on Archipel, but what an astonishing improvement the Pristine version means. I just would let you know, since I am so enthusiastic about it. Looking forward to Die Walküre!..."


Since these initial comments from listeners, I've been continually nagged by e-mails requesting Die Walküre, and naturally given the success of Das Rheingold, I was somewhat nervous with regard to my ability to match up to that standard.
I should not have been. If anything, this was a better-made recording to begin with. This of course makes sense - recorded a day after the first Ring opera, the opportunity would have been there to make adjustments to microphone placement and recording equipment based on the experience of the previous day's taping.
As a result, Die Walküre frequently surpasses Das Rheingold in overall sound quality - it truly sounds wonderful throughout. I've managed to deal with various faults which existed in the recording - hums, high frequency tones, occasional drop-outs, a tendency to high-frequency 'fuzz' around 10kHz, and removed a number of coughs and other intrusions.
But above all the delight for this listener of this new remastering will be the absolute clarity and stunning sound quality of the whole - the perfect balance of orchestra and voice for which Bayreuth was designed is conveyed brilliantly in one of the finest opera recordings and performances I've ever heard.
Andrew Rose
WAGNER - Die Walküre WWV 86B

Siegmund - Ramón Vinay
Sieglinde - Regina Resnik
Wotan - Hans Hotter
Brünnhilde - Astrid Varnay
Hunding - Josef Greindl
Fricka - Ira Malaniuk
Gerhilde - Brünnhild Friedland
Ortlinde - Bruni Falcon
Waltraute - Lise Sorrell
Schwertleite - Maria von Ilosvay
Helmwige - Liselotte Thomamüller
Siegrune - Gisela Litz
Grimgerde - Sibylla Plate
Rossweisse - Erika Schubert

Choir and Orchestra of the Bayreuth Festival
conductor Clemens Krauss
Live concert recording, Bayreuth Festival, 9th August 1953
Fanfare Review
Andrew Rose's vividly lifelike remastering is the first to significantly improve transparency and immediacy while retaining most of the Laudis AAD version's sense of voices in a real space
As always, the problem is not finding five favorite releases of the last year, but limiting the list to five. In a time where some are still ringing the death knell for recorded classical music, there are a remarkable number of performances being released, so a list like this is as much a matter of opportunity as design. Still, the first selection was an easy one, and reflects a longtime favorite recommendable here because of a glorious new transfer. The 1953 Clemens Krauss Bayreuth Ring is one of the finest—if not the finest—performance of the tetralogy available on CD. Krauss is urgently dramatic while never shortchanging the psychological depths. A few lapses aside, the late golden-age cast sings like, well, gods. It has been available in digital form since the Foyer/Laudis release in 1987, in transfers of varying quality. Andrew Rose's vividly lifelike remastering is the first to significantly improve transparency and immediacy while retaining most of the Laudis AAD version's sense of voices in a real space. Not cheap, but worth the price, it is available from pristineclassical.com as a download or on CD-Rs.
Want List for Ronald E. Grames [2010]
This article originally appeared in Issue 34:2 (Nov/Dec 2010) of Fanfare Magazine.