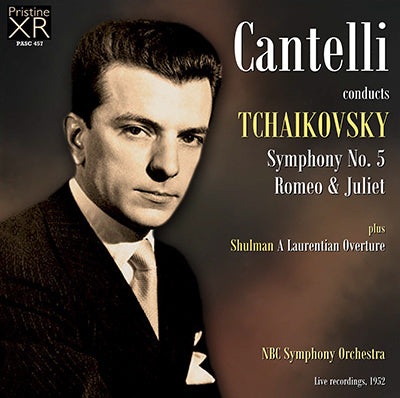 This album is included in the following set
s

:
This set contains the following album
s

:
Producer's Note
Full Track Listing
Cover Art
Additional Notes
Cantelli shines in Tchaikovsky - and Shulman
"The performances are fantastic and show why the loss of Guido Cantelli at the age of just 36 was such a crippling blow to the world of music" - MusicWeb International

These transfers come from a newly-acquired archive of the complete NBC broadcast recordings of Guido Cantelli, very gratefully received here at Pristine, which promises many further treasures to come. The two concerts form which the recordings were drawn took place a month apart at the start of 1952, and our source material was, by and large, excellent. If there is a slight difference in quality it is to be heard in the Shulman, where the upper treble is less well captured than in the two Tchaikovsky pieces.
The latter, by contrast, were excellent. Happily both concerts took place in Carnegie Hall, rather than the NBC studio from where Toscanini broadcast the majority of his NBC SO concerts. Thus we get the benefit of a much more sympathetic acoustic - something that really adds to these superb performances - rather than the dry and claustrophobic sound associated with the orchestra as heard in Studio 8H. 
The audiences were exceptionally quiet, especially so in the second of the two concerts; occaisonal coughing and other unwanted noises have been removed from the Romeo and Juliet recording. I'm grateful once more to Keith Bennett for his insight and excellent notes to what is a fabulous Cantelli release.
Andrew Rose

TCHAIKOVSKY  Symphony No. 5 in E minor, Op. 64

TCHAIKOVSKY  *Romeo and Juliet (overture-fantasia)
SHULMAN  A Laurentian Overture



NBC Symphony Orchestra

Live performances, Carnegie Hall, New York City
1 March, 1952 and *2 February 1952 

Guido Cantelli, conductor
Let us start at the beginning. Guido Cantelli graduated as a professional musician on 3 February 1943 and his first engagement was in his home town of Novara when he conducted La Traviata eighteen days later. His meteoric rise to fame came after an unseen Arturo Toscanini witnessed Cantelli's rehearsal during May 1948 with the Orchestra della Scala for a concert which was to be his first appearance in the Teatro alla Scala. The rest is well-known and it is an unequivocal fact that Cantelli's international career was launched from that informal encounter.
Up until the end of 1948 only one Tchaikovsky symphony (the Pathétique) had been performed (twice) by the young conductor and the only other performances of Tchaikovsky were the violin and the piano concerto which were conducted just once. Cantelli gave his first performance of the Tchaikovsky Symphony No.5 when the Orchestra della Scala took part in the 1950 Edinburgh Festival: this was Cantelli's first visit to the UK. Such was the acclaim of his performances on the 5th and 9th September that he was persuaded to record the work later that same month when the orchestra was appearing in London. There followed another seven performances in Italy with the same orchestra. In 1951 there were only five performances, all in the USA – two with the Pittsburgh Symphony Orchestra and three with the San Francisco Symphony Orchestra.
Thus, by the time that Guido Cantelli mounted the podium on 1 March 1952 in Carnegie Hall, the late Harris Goldsmith made the very valid comment that the conductor had already given a dozen performances of this symphony since he made the commercial recording and that experience can be heard for three reasons: first, as Harris Goldsmith pointed out, Cantelli had considered his interpretation further in the light of these performances; second, he had a fabulous orchestra at his disposal; and third, this was his 22nd appearance with the NBC Symphony Orchestra and the musicians were well aware of the young conductor's way with Tchaikovsky, since they had played the Fantasy Overture Romeo and Juliet twice and the Symphony No.4 once. This was to be his only performance of Symphony No.5 with this orchestra and, understandably, Cantelli had already honed his vision of the work to a remarkable degree. That is not to say that he followed every instruction contained in Tchaikovsky's score, but there is never the impression of manipulation or sentimentality and there are plenty of instances where Cantelli was meticulous in observing Tchaikovsky's wishes. Maybe there a wind of change in the air during the 1950s and - for this listener - it was like a breath of fresh air.
The performance of Tchaikovsky's Romeo and Juliet from a few weeks earlier (2 February) has all the ardour, passion and drama contained in the score, and while Cantelli's commercial recording with the Philharmonia Orchestra (recorded 13 October 1951) is more subtle there is considerable disappointment that James Bradshaw's tympany is recorded at too low a level, which is very obvious when one hears the NBCSO's Karl Glassman ferocious attacks. Those who eyes are glued to the score will note that that Karl Glassman continues his drum roll through the very last note (apparently, Toscanini did this in a performance with the NBC Symphony Orchestra in 1938, but never repeated it again).
The concert on 1 March had opened with Alan Shulman's A Laurentian Overture. He was a cellist in the NBC symphony orchestra from 1937 until its disbandment in 1954, although he enlisted for military service during 1942-1945. He was also a composer (1915-2002). He had sent the score, which is dedicated to Tallulah Bankhead, to Cantelli on 6 June 1951 and Cantelli indicated in his reply dated 10 August that he had already decided to include the work in his concerts with the New York Philharmonic Orchestra (as it is known today) and possibly the NBC Symphony Orchestra as well: this he did. It may not be a great work, but it is one of those compositions which can delight audiences (even some critics as well) although, sadly, it did not find its way into the accepted repertoire. The outer sections are rumbustious and the central part has a meditative atmosphere. It has that sense of wide open spaces and a feeling that life, although quirky, is very much worth living. Anyway, Cantelli obviously liked it and the performances with both orchestras were brilliant.
These notes © 2015 Keith Bennett

Keith Bennett is the author of Guido Cantelli – Just Eight Years of Fame (published 2009) which is only available from GC Publishers. For further details either write to GC Publishers, 21 Nunn Close, Martlesham, Woodbridge, Suffolk IP12 4UL, UK or e-mail gcpublishers@keithbennett.waitrose.com
MusicWeb International Review
The performance is full of passion yet control is consistently maintained
The death of Guido Cantelli (1920-1956) in a plane crash was a grievous loss to music. Fortunately we have a good legacy of recordings, both studio-made and live, which show us how great was his talent. The Testament and Music & Arts labels have issued a good number of Cantelli recordings but Pristine Audio have been no less assiduous and I was delighted to read on their website the following statement: "These transfers come from a newly-acquired archive of the complete NBC broadcast recordings of Guido Cantelli, very gratefully received here at Pristine, which promises many further treasures to come." The prospect of further Cantelli releases is an enticing one, especially if they match this present one in terms of artistic and sonic quality.

The unfamiliar name on the programme may be that of Alan Shulman. An American, he was a cellist in the NBC Symphony Orchestra between 1937 and 1954, though his time with the orchestra was disrupted by wartime service. I understand that his compositions enjoyed some early success, notably his Theme and Variations for Viola and Orchestra (1940) and his Cello Concerto. However, his music has now largely faded from view though a CD of some of his pieces was issued a few years ago (review). That disc includes the present performance of A Laurentian Overture. Shulman had sent the score to Cantelli in 1951 and the conductor responded favourably, giving the work its first performance with the New York Philharmonic in January 1952. The performance preserved here was the second outing for the score

Shulman's score is very American in accent, especially in its lively outer sections. Between 4:04 and 6:10 there's a quieter, more reflective episode in which woodwind solos predominate. It's an uncomplicated piece that sounds to be well written for the orchestra. It may not be great music but it's thoroughly engaging and deserves to be more widely heard.

Inevitably, the main interest here lies in the Tchaikovsky performances. I'm familiar with both – and with the Shulman – because they were included in a 12-CD set from Music & Arts, The Art of Guido Cantelli. New York Concerts and Broadcasts (1949-1952) (CD-1056). That set is indispensable for Cantelli admirers though I think there are good reasons to invest in this Pristine disc, even if you have that box. It should also be said that Pristine already have two Cantelli recordings of the Fifth Symphony in their catalogue: a live Boston performance, which I've not heard (review) and his 1951 studio recording (review). In terms of playing quality and sheer electricity the NBC performance outshines the studio version.

In the first movement I like Cantelli's sprightly approach after the Andante introduction. There's lots of electricity and drive in his handling of the Allegro con anima but we also find that the lyrical passages are sympathetically handled. The performance is full of passion yet control is consistently maintained. The NBC principal horn gets the slow movement off to a distinguished start. The movement as a whole is full of feeling and I'm tempted to say that there's evidence of an ardent Italian temperament yet, as in the preceding movement, the ardour is never allowed to overcome the discipline of the conducting. Cantelli's way with the Valse is winning. He makes a powerful start to the finale. When the Allegro vivace is reached the performance is very exciting though the pace that Cantelli adopts will seem sober to those who have heard the electrifying Mravinsky. I rather prefer Cantelli's slightly more measured approach, which allows for good definition. At times the timpani are quite prominent but it all adds to the sense of excitement. When the motto theme returns in the major key (9:57) the music sounds to be full of optimism. In the closing pages (from 11:58) Cantelli whips up the speed, though I don't think that's marked in the score. Unsurprisingly there's a rapturous ovation.

As I mentioned, this performance is included in a large Cantelli box from Music & Arts, issued in 2003, in which the transfers were done by Maggi Payne. Her transfer of this performance is good but Andrew Rose has achieved better results. On my equipment the Pristine transfer has much more warmth, especially in the treble (the oboes, for example) while there's greater depth in the bass than Music & Arts provide.

Romeo and Juliet was performed a month earlier. It's a very intense, dramatic reading and the NBC Symphony plays very well indeed. The fight music is very exciting while Cantelli keeps the love music moving forward with no little urgency. It's a terrific performance. Incidentally, you may notice that at the very end the timpanist sustains his roll right the way through the final chord. This piece was given by Cantelli as part of his London debut concert with the Philharmonia in 1951. He and the orchestra made a studio recording for HMV shortly afterwards. That performance has been issued by Pristine (review) and also by Testament (SBT 1316). Unsurprisingly, the HMV sound is better but this NBC performance has the edge in terms of attack and electricity. The NBC performance is similarly available in the Music & Arts box but the Pristine transfer is finer.

If, like me, you have that Music & Arts set you may feel disinclined to invest in this Pristine release. However, there's a significant gain in the quality of recorded sound and that, I think, would justify the duplication. Other collectors will find this Pristine disc a most tempting proposition, especially as the transfers are so good. The performances are fantastic and show why the loss of Guido Cantelli at the age of just 36 was such a crippling blow to the world of music.

John Quinn
MusicWeb International