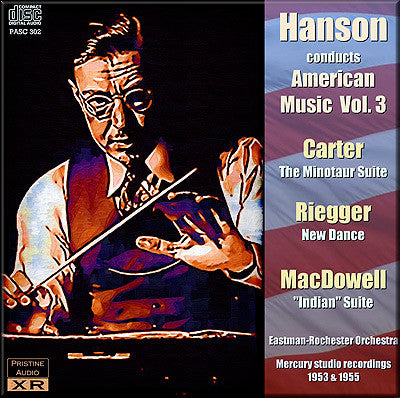 This album is included in the following set
s

:
This set contains the following album
s

:
Producer's Note
Full Track Listing
Cover Art
More rare recordings of Howard Hanson conducting America's finest composers
 "This is a fascinating slice of American musical history from the 20C. It's all sensitively and energetically spun by Hanson"
- MusicWeb International

Both the Carter and the Riegger were transferred from mint 1970s reissues pressed in Holland by Philips for Mercury's "Golden Imports" imprint. I've successfully removed all trace of their ghastly electronic stereo, which not only made them almost unlistenable but also screwed badly with the phase relationship between the two channels.
The MacDowell comes from a mid-sixties mono reissue in an American Mercury pressing where none of these problems was an issue. In all three cases the discs can be described as near-mint condition and offered few other difficulties in transfer. The recordings were typically well-made Mercury 'Living Presence' productions and have responded well to gentle 32-bit XR remastering.
Track-splitting and naming for the Carter suite was slightly tricky as the LP was somewhat vague with respect to tracks. I deferred therefore to the complete recording of the Ballet on Nonsuch Records in this respect, which offers 17 tracks in total. The suite includes a short cut in the Entrance of the Bulls, then omits the Interlude and first three numbers of Scene Two and the later item "Ariadne unwinds her thread" but otherwise appears complete.
Andrew Rose
ELLIOTT CARTER The Minotaur, Ballet Suite (1947)

Recorded 10 May 1955
First issued on Mercury MG 50103



WALLINGFORD RIEGGER New Dance (1935)
Recorded 11 May 1953
First issued on Mercury MG 40005



EDWARD MACDOWELL Suite No. 2, Op. 48 "Indian" (1892)
Recorded 19 November 1953
First issued as Mercury MG 40009


Eastman-Rochester Orchestra 
Howard Hanson, conductor


MusicWeb International Review
The Minotaur is dynamic, virile, brutal, burred, tense and atmospheric...
REVIEW OF VOLUMES 1-3

IPR law and the passage of time has freed up enterprises such as Pristine to liberate recordings now more than fifty years old. These mono Mercury LP derivatives take wing again courtesy of Andrew Rose and his marvellously applied XR re-mastering.

 
Hanson's Fourth Symphony (there are seven) is sumptuous. The music wells up in great gouts of sound. Everything is burnished and regal with a slow sovereign eruption of melody. If you know his first three symphonies all issued by Universal in stereo then you will instantly relate to this throbbing convulsive music. I am not sure that the Requiem title and movements add solidly to the music, They stand as sincere indicators of the moods and senses the composer had in mind. The music was written in memory of Hanson's father. The very short Dies Irae recalls his gritty propulsive way with the fast movements in the first and second symphonies and link in turn to The Rite and Rimsky's Antar. The finale is Lux Aeterna which is also the title Hanson gave to an earlier work for orchestra. The sense of striving and majestic heavenly flight and bell-tolling is there again. Hanson is, as ever, a master of building the romantic climax as he was to be again in the glorious Sixth Symphony. So it proves here though the work ends in taciturn rather than refulgent style.
 
The sound is always plenary, affluent and burnished: golden among the horns and silvery heroic in the trumpets. There is, at times, a slight sense of tizz when the audio pressure is really on; otherwise the sound-picture is very agreeable. It upholds across the decades the vaunted Mercury reputation.
 
The poetically coloured Loeffler has not been freshly recorded though this is the second version in historical sound. It sound better than it did on that Guild 2CD set of Tocanini Americana. The music is affectionately cast in an idiom that echoes that of Rimsky-Korsakov with a Gallic aspect. The whole thing is in a single track. It's quite magical. I do wish we could hear more Loeffler. By the way it's Loeffler's Life in a Russian Village not as Pristine have it Live in a Russian Village.
 
Hanson's Song from Drum Taps to words by Whitman clamours for attention. It has a fire in common with similar works by RVW (Dona Nobis Pacem) and Bliss (Morning Heroes). The choir is fervent and the flames are fuelled further by the edgy attack of drums and brass. David Meyers guides us mysteriously in hushed tension through By the bivouac's fitful flame with the choir taking a tactful and unassertive shading. The clamant rapture returns for To Thee Old Cause (also set by William Schuman). This is the most masterfully spun of all the three movements and rises in molten fervour. The words can be had on Pristine's website.
 
Good to hear this old friend in such good fettle. This leads us to Randall Thompson's Jefferson-based Testament of Freedom which has a clear affinity with the Hanson work. I recall the inspiring experience of hearing these recordings thirty years ago when the box of rare LP Americana arrived by post one summer morning. The Thompson is stirringly four-square and full of admirably earnest commitment to humane values. The rhythmic life that transforms the Second Symphony is touched on but not fully replicated. It's well worth hearing and there is a transcendent gleam in I shall not die without a hope which is the finale. The singing by the Eastman School of Music Chorus never once relents from commitment and patriotism. It reminded me of John Ireland's These Things Shall Be more than once. The music swings indomitably along lit by that unwavering blaze of democratic rhetoric.
 
PASC 296 is a confident entry with two post WW2 symphonies written within a year of each other. The evolutionary-paced bloom of Piston's Third is strongly controlled by Hanson. The conductor must have warmed to its sonorously unhurried heroism no doubt coloured by the country's experience of a World War and the impending Korean conflict. His surefooted way continues to impress across this four movement 35 minute symphony. It's not as catchy or as accessible as its predecessor which was unmatchably recorded by DG with the Boston Symphony Orchestra and Michael Tilson Thomas in 1971 and can still be heard on XXXX. Even so the impudent irrepressibility heard in the finale of the Second Symphony skitters its way through the first Allegro. The chill-blasted bleach of the 3rd movement Adagio is almost tender but certainly melancholically pained. One senses splintery stamping mid-western zest in the finale. The second Allegro and the taut and tight pummelling of the final few moments speak of Piston's control if not of unbridled exuberance.
 
Henry Cowell's Fourth Symphony is much shorter at about twenty minutes. It has a sort of echo in the Hymn-Allegro first movement of tender 'westerniana' coupled with The Great Gate of Kiev and even a touch of Purcell. The wistful avian piping of Ballad is followed by the jig-innocent Celtic balladry and danseries of the Vivace. The final Fuguing Tune takes a punt at the Great Gate again but with Purcellian awe and bell-rung majesty. Interestingly his movement titles link with titles of many of this other works: Hymn, Fuguing Tune, Dance, Ballad.
 
The Loeffler Poem for Orchestra is another slow-blooming statement of the passions - Tchaikovskian really. It rises to stormy passions for sure. It was the first time I had heard the piece. If you enjoy the Macdowell Arthurian tone poems or those by Farwell perhaps with a tinge of early Delius then you should hear this. I had not encountered it before but was very glad to make its rhapsodic instinctive acquaintance.
 
PASC 302 is volume 3. We start with a very early work by the wondrously long-lived Carter. His The Minotaur is dynamic, virile, brutal, burred, tense and atmospheric. It's not short on Stravinskian high voltage. It can be cool as well as in the miraculous Ariadne, Princess of Crete and poignant as in Theseus's Farewell to Ariadne which brings a lump in the throat as much as Bliss's music for Hector's Farewell to Andromache in Morning Heroes. Wallingford Riegger's New Dance is more sumptuous and sounds lavish though not to diffuse its shatteringly savage rhythmic howl, blast and electric ripple. The Macdowell Indian Suite derives from the early 1890s – another era. The music is Lisztian, tenderly romantic, fleet-footed and only very faintly ethnic – a slight overtone in the lightly caricatured Village finale which yet ends in a glorious blaze. That same finale from time to time reminded me of Sibelius's Lemminkainen Suite recently issued in the elite mono 1950s version with Ormandy by Pristine (PASC 299).
 
These discs are available separately from Pristine either as discs or in various download formats.
 
After a couple of discs where I have been less than welcoming I am so pleased that Pristine have returned to their true and exultant form.
 
Let's have more please. How about the Hanson Fifth Symphony (transferred by Haydn House) and the extended ERSO extracts from Merry Mount.
 
This is a fascinating slice of American musical history from the 20C. It's all sensitively and energetically spun by Hanson.
 
Rob Barnett