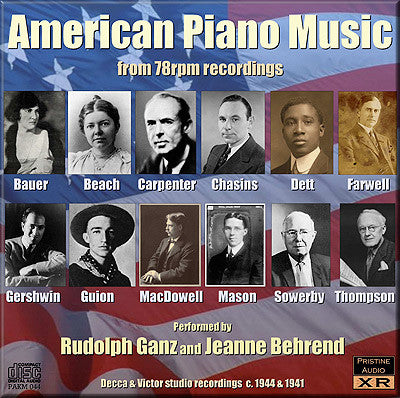 This album is included in the following set
s

:
This set contains the following album
s

:
Producer's Note
Full Track Listing
Cover Art
Additional Notes
From the neglected to the well-known - American piano music
Thirteen composers represented in this superb and accessible cross-section

The Decca album Marionettes Suite consisted of two near mint but somewhat crackly 10-inch 78s. These showed considerable variation in top end hiss across the discs, to the extent that attempting smooth side joins risked damaging the music, hence the fades between movements. The RCA Victor album of Jeanne Behrend's performances, across four 12-inch discs, was similarly in excellent condition. Whilst less crackly some sides did suffer swish, most of which has now been tamed or removed. They also benefit from a better recording of the piano, though peak distortion was occasionally an issue. Overall, and together, a delightful collection.


Andrew Rose
Full Track Listing
MACDOWELL Marionettes Suite, Op. 38

(10:41)



Rudolph Ganz piano
Recorded c.1944, issued in 1947 as US Decca album A-576
Catalogue Nos. 24153-4
Matrix Nos. 71878-81




"Piano Music by American Composers"

CHASINS Prelude in D minor, Op.13, No.5

(1:23)

CHASINS Prelude in F sharp minor, Op.11, No.1

(0:37)

GERSHWIN Prelude in B flat major

(1:35)

GERSHWIN Prelude in C sharp major

(3:07)

GERSHWIN Prelude in E flat major

(1:11)

MASON The Whippoorwill, Op.9, No.4 (from Country Pictures)

(3:20)

MACDOWELL March Wind, Op.46, No.10 (from Virtuouso Studies)

(1:49)

CARPENTER Diversion

(2:10)

GUION Country Jig

(2:31)

THOMPSON Song After Sundown

(2:54)

FREED March (from 5 Pieces for Piano)

(1:56)

DETT Adagio Cantabile

(2:36)

SOWERBY The Lonely Fiddlemaker

(2:16)

BAUER White Birches, Op.12, No.1 (from The New Hampshire Woods)

(2:07)

FARWELL Navajo War Dance, Op.20, No.1

(2:25)

BEACH Improvisation (No. 2 from 5 Improvisations)

(0:55)

FARWELL Sourwood Mountain, Op.78, No.3

(3:12)



Jeanne Behrend piano
Recorded c.1941, issued as "Piano Music by American Composers"
RCA Victor Musical Masterpiece Series M-764
Catalogue Nos. 17910-17913

THE necessity for a recorded volume of American piano music has long been recognized, and we are singularly fortunate in having so sensitive a performer as Jeanne Behrend to select and present to us a portion of this neglected repertoire. "My interest in American music," writes Miss Behrend, "dates some ten years back when I watched the struggles and disappointments of a young composer who, together with his colleagues, was finding it very difficult to combat the curious and widespread distrust of native-born composers. Later, I reviewed critically my own piano compositions and found them not wanting in merit, but realized that they were doomed to lie on the shelf because of a general lack of interest in American music, as evidenced by the general run of recital programs. I multiplied my case by several others and decided that there must be plenty of good piano music written here; it had only to be found. So I wrote to over sixty composers and ten publishers, asking them to send me their music in order to facilitate a survey of American piano music. They complied very kindly, and after the severe task of selection and preparation, I found that I had enough material for three recitals of American piano music, old and new. The recitals were given in Philadelphia and in New York in the early Spring of 1939.
"This record album is, for the most part, chosen from the three programs, and is admittedly on the conservative side. In compiling it, many problems of program-making and grouping had to be met. This, plus the fact that certain works had already been recorded and that certain composers have not written for the piano, accounts for the omission of several well-known names in American music.
"The album is obviously not meant to represent a complete survey of American piano music, but if it speaks understandably to the sincere lover of music, and if it arouses an interest in more research along these lines, it shall have achieved its purpose."
Excerpt from sleevenotes to "Piano Music by American Composers",
MusicWeb International Review
Pristine extend their arm yet deeper into the most exotic corners of the repertoire
For all that people kvetch about record companies at no time in history have we ever had so much music available. The present CD is part of the array of evidence that can be adduced to substantiate that statement.
 
These valuable retrievals from two rara avis albums of American 78s present music that is light on the ear. The Macdowell Marionettes suite (1888-1901) gathers eight pieces each with a Schumann-like fairytale - or even silent movie - title. These inventive little mood vignettes (Prologue; Clowns; Lover; Soubrette; Sweetheart; Villain; Witch; Epilogue) are typical of sub-Chopin salon though some do make a fleeting pass in the direction of Rachmaninov and transcend the genre. This suite seems not to have been included in James Barbagallo's four Naxos CDs (vol 1 vol 2 vol 3 vol 4) of the Macdowell piano music or at least not under this title.
 
Ganz, Geneva-born, was a Busoni pupil in Berlin but arriving in Chicago in 1901. Chicago was to become his adopted home though he did have time for European tours between 1908 and 1912. He was music director of the St. Louis Symphony Orchestra (1921-27) and had made recordings with them for Victor. He married Mary Forrest, an American concert singer in 1900. In addition to an early Symphony his oeuvre included an orchestral suite of twenty Animal Pictures (1933). His Piano Concerto was introduced in 1941 with the composer as soloist. You can hear this extravagant four movement work on Cedille CDR 90000 029. It's in a blend of styles. These span Rachmaninovian romance (second movement), Ravel's mercurial fantasy (G minor concerto) and a Shostakovich-like abruptness in the first movement. A sort of nervy elegance suffuses the whole thing. A 1940s Chicago Symphony Orchestra/Frederick Stock radio broadcast of the Concerto by Ganz was issued on Dante HPC050. Ganz can be heard in more classical repertoire on Guild.
 
Philadelphia-born Jeanne Behrend (1911-1988) attended the Curtis Institute in the early 1930s where she was a piano pupil of Josef Hofmann. Her composition tutor was Rosario Scalero. Fellow Curtis student Barber wrote an Interlude I - an episode of cloudy introspection - which is dedicated to her. She championed Harl Macdonald's (1899-1955) out-west Concerto for Two Pianos and Orchestra which was recorded with her by Stokowski (Cala CACD 0501). She championed Americana as we can see and her compositions included the piano suite A Child's Day, From Dawn to Dusk for orchestra (1939) and a Lamentation for viola and piano (1944). She edited Louis Moreau Gottschalk's Notes of a Pianist in 1964. By the bye: Philip Martin's 8 CD Gottschalk set has just been issued on Hyperion CDS44451/8.
 
Chasins' D minor prelude is rather grand and in hock to Rachmaninov while the F sharp minor is a scintillating little raindrop sprint. Gershwin's three preludes are familiar enough and their jazzily smoochy and rapid-fire loucheness is well caught by Behrend. Daniel Gregory Mason's The Whippoorwill is peaceful with fragrant echoes of Macdowell's pastoralism. Speaking of Macdowell the Lisztian scramble that is March Wind is from his Op.46 Virtuoso Studies. Its celerity is such that it would work well on a pianola roll. I wonder if one was made. John Alden Carpenter's Diversion is impressionistic and for English listeners is strongly redolent of John Ireland. With other hats on Carpenter could be jazzy asw e know from his ballets. David Guion's Country Jig has an barn-dance style with a flock of wild banjos flying down hill out of control. The Guion can also be heard on Naxos 8.111120. Randall Thompson's Song After Sundown is a touching little atmosphere piece closer in ecstatic style to the Carpenter. Freed's March from his Five Pieces is a clunky muscle-powered piece like a brutal and stubborn carillon. Robert Nathaniel Dett wrote some superb choral-orchestral music such as Chariot Jubilee and The Ordering of Moses; why don't we hear it. Clive Lithgow recorded his suite In The Bottoms in 1971 for Philips LP (9500 096) but this warm-hearted Adagio Cantabile is a contented piece. There's a whole New World CD devoted to his piano music. In The Lonely FiddlemakerLeo Sowerby takes us to the same territory as Guion but with a splash of Bushmills. US-based pianist Harold Bauer who premiered Holbrooke's first piano concerto was also a composer. His glimmeringly romantic White Birches from The New Hampshire Woods suite attests to this. Arthur Farwell's music amounts to a sleeping giant with his Brucknerian massive Rudolph Gott Symphony and his tone poem The Gods of the Mountains. Here he appears on a smaller scale with the stern Navajo War Dance and the gawky light-hearted Grainger-reminiscent Sourwood Mountain. Farwell was an Indianist composer alongside Cadman and Converse. Beach's very short Improvisation is a sort of waltz fragment.
 
Pristine extend their arm yet deeper into the most exotic corners of the repertoire. Next thing you know they will find that fabled set of 78s of the Holbrooke Fourth Symphony made by the Torquay Municipal Orchestra; I can dream.
 
Rob Barnett