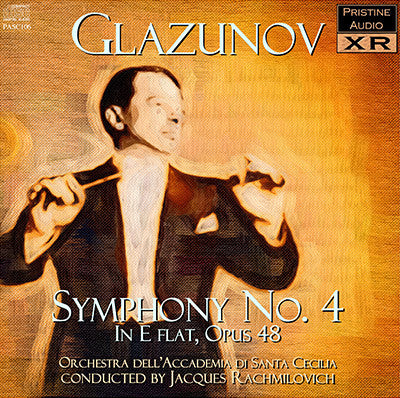 This album is included in the following set
s

:
This set contains the following albums:
Producer's Note
Full Track Listing
Cover Art
Pristine XR remastering has made huge inroads on poor sound, to reveal a once-forgotten recording to really savour!
This lovely performance of one of Glazunov's most delightful major works came right at the tail-end of the 78rpm era, and was issued both on shellac and, later, on LP.
It's almost certainly the first western-made recording of the work, beaten into 2nd place by a Russian recording a year earlier in St. Petersburg - we've been unable to trace any earlier recordings, though it was already 55 years old by the time that debut recording had been made.
A review of the LP issue of this recording in The Record Guide noted:
A mellifluous work in the Russian academic style, with good string tunes and a clear symphonic structure. There are a few cuts in the LP issue, which is, moreover, exceedingly ill recorded

With this in mind, it is no surprise perhaps to discover that this has been a recording that's been a long time coming - effectively awaiting the technology that might rescue it from oblivion. Whilst there still seems, to me, something rather odd going on at the very beginning, one is quickly drawn into the performance, and the sound itself seems to pick up once past those opening bars.
I've had to leave a reasonable degree of hiss in this remastering - something you'll adjust to very quickly - in order to fully preserve what is available to us in terms of sound quality. I also managed to tame a bizarrely accentuated bass which at times seemed ready to overwhelm, as well as correcting some very unusual pitch fluctuations. Given the recording date I'd imagine this to be an early tape recording - perhaps one where the teething problems associated with new technologies were still to be ironed out.
GLAZUNOV Symphony No. 4 in E flat, Op. 48

Recorded in Rome, March 1949, issued as Capitol 78s 89-80105-7 in album ECL 8027

Matrix Nos: 4482-7, suffixes: 6D.1 - 4D.1 - 2D.1#2 - 2D.2 - 5D.1 - 6D.2#2
Transfer and XR remastering by Andrew Rose at Pristine Audio, February 2008

Duration 25:52