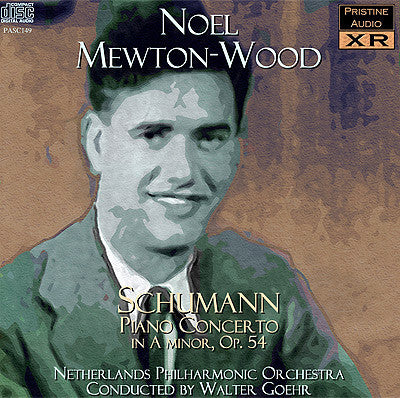 This album is included in the following set
s

:
This set contains the following album
s

:
Producer's Note
Full Track Listing
Cover Art
One of the highlights of Mewton-Wood's recording career
Superb performance in excellent XR-remastered sound
Review of this release: Audiophile Audition
This recording, which contrary to the indications on a previous reissue, we believe was probably recorded between 1951 and 1953, really is something special, both in the performance and the sound quality captured in the grooves of that early fifties ten-inch disc. My only difficulties with the restoration centred around a small scratch partway through side one, and a slight tendency to high frequency swish. As restorations go, neither presented major obstacles.
The analysis for re-equalisation at the heart of the XR remastering system showed a good and largely accurate frequency response in the original recording, though with something of a roll-off in the upper end which left an audible sonic veil over the proceedings. Lifting this brought new life and clarity to the sound of both piano and orchestra, whilst the addition of Ambient Stereo helps to really round out the overall audio picture.
I've not yet touched on the performance - this is surely one of Mewton-Wood's finest! In a review of a previous issue, Raymond Tuttle wrote:
"Noel Mewton-Wood ... turns out to be something of a cult figure ... his reading of the Schumann here is both exciting and majestic ... I could listen to this version of the Schumann Concerto any day and be happy ... Schumann's passionate and proud soul has been brought back intact by everyone involved!"

SCHUMANN Piano Concerto in A minor, Op. 54
Noel Mewton-Wood, piano
Netherlands Philharmonic Orchestra,
conducted by Walter Goehr
Recorded c.1952, transferred from Guilde Internationale du Disque MMS-43
Disc from the collection of Jean-François Lambert

Transfer and XR remastering by Andrew Rose at Pristine Audio, January 2009
Cover artwork based on a photograph of Noel Mewton-Wood

Total duration: 31:54