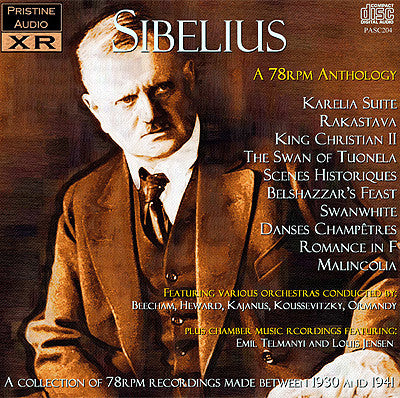 This album is included in the following set
s

:
This set contains the following album
s

:
Producer's Note
Full Track Listing
Cover Art
A fascinating collection of shorter works from the 78rpm era
Featuring some of the finest conductors, orchestras and performers
This anthology of recordings was entirely drawn from a single album compiled by the late professor of music at a UK university whose extensive collection of 78s was acquired by Pristine Audio some years ago. It supplemented the Sibelius Society collection of some six volumes, and together with a handful of other recordings, represents a pretty successful attempt to bring together just about all of the recordings of Sibelius available to the British record buyer in the 1930s and early 1940s from the two major record companies.
I have kept very closely to the professor's order of discs, merely reversing the two recordings made by Emil Telmanyi and Gerald Moore from their order on a single disc side in order to bring together the two Danses Champêtres. Alas two discs arrived broken - the perpetual peril in shipping shellac discs, and thus we do not have Beecham's RPO Tapiola. However, the rest of the discs survived in remarkably good condition, with very few scratches indeed, and almost no evidence of wear. All possessed the typical 'bacon frying' crackle of British pressings, all replayed well, and swish was remarkable by its general absence. Although there is some difference in sound quality between the earlier and later recordings, all have responded exceptionally well to XR remastering, and sound quality is generally excellent.
Andrew Rose
Karelia Suite, Op.11
1. Intermezzo
3. Alla marcia
The Royal Philharmonic Society's Orchestra*
conducted by Robert Kajanus,

May 1930


UK Columbia DX307, Matrices WYX19-20, 1st takes


Rakastava (The Lover), Op. 14


King Christian II, Suite Op.27
2.Elegie
The Leslie Heward String Orchestra**
(Drawn from the City of Birmingham Orchestra's string section)
conducted by Leslie Heward,

February 14, 1941


UK Columbia DX.1004-5, Matrices CAX 8834-7, 1st takes


The Swan of Tuonela, Op.22, No.2
The Philadelphia Orchestra
conducted by Eugene Ormandy,

October 20, 1940


HMV DB.5832, Matrices 2A.047823-4


Scenes Historiques, Op. 25
3. Festivo (Tempo di Bolero)
London Philharmonic Orchestra
conducted by Sir Thomas Beecham,

December 14, 1935


UK Columbia LX.501, Matrices CAX 7769-70, 1st takes


Belshazzar's Feast, Op. 51
London Symphony Orchestra
conducted by Robert Kajanus,

June 24 & 29, 1932


HMV DB.3937-8, Matrices 2B.2943-5 & 2960 Takes 1, 2, 1, 1


Swanwhite, Op. 54
3. The Maidens with Roses
Boston Symphony Orchestra
conducted by Serge Koussevitzky,

December 12, 1936


HMV DB.3171, Matrix 2A.03175


Danses Champêtres, Op. 106
1. Largamente assai
2. Alla polacca


Romance in F major, Op.78, No.2
Emil Telmanyi, violin
Georg Vasarhelyi, piano

(Op106/1), March 3, 1936


Gerald Moore, piano

(Op106/2, Op78/2), March 28, 1935


HMV DB.2893, Matrices 2RA.1042, 2EA.1348, Takes 1,3


Malinconia, Op. 20
Louis Jensen, cello
Galina Werschenskaya, piano,

August 26, 1936


HMV DB.5223, Matrices 2CS.955-6, 2nd takes


*This recording is sometimes ascribed to the London Symphony Orchestra. However, the orchestra's discography, compiled by Philip Stuart, states: "Kajanus' recordings of the first two symphonies were made in May 30 with an anonymous orchestra, sometimes labelled as the LSO, but now identified as the Royal Philharmonic Society's orchestra" - likewise this recording does not appear in the LSO discography, was recorded at the same time, and is simply labelled "Symphony Orchestra"
**Although labelled as "The Leslie Heward String Orchestra", it was in fact the string section of the City of Birmingham Orchestra, now the CBSO. This was confirmed in an e-mail from the CBSO's current archivist, Beresford King-Smith: "I can confirm that the information you have about that 1941 Sibelius recording is absolutely correct - the players were members of the City of Birmingham Orchestra, but Walter Legge (who always had his own nefarious reasons for what he decided to do !) opted to use the 'Leslie Heward String Orchestra' formula, instead. The recording took place on 14th February 1941, in Birmingham Town Hall."
Transfers and XR remastering by Andrew Rose at Pristine Audio, November 2009
All disc information taken from transfers used for this compilation
Cover artwork based on a photograph of Jean Sibelius

Total duration: 73:44