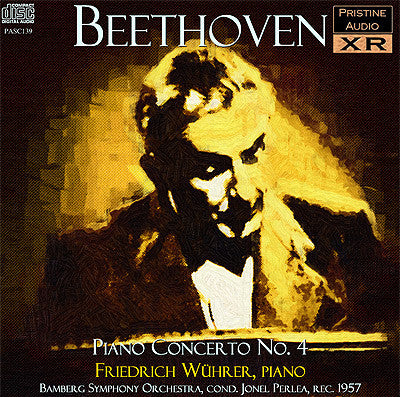 This album is included in the following set
s

:
This set contains the following album
s

:
Producer's Note
Full Track Listing
Cover Art
An excellent Vox recording and fine performance from 1957
New transfer, XR remastered in excellent sound quality
This was one of those lucky finds I occasionally stumble across - a French pressing of a highly regarded pianist, well recorded and issued on Vox, but not seen since. The disc was in very good condition, and restoration requirements were minimal. XR remastering and Ambient Stereo processing brought with them extra dimensions of realism, and apart from some very occasional and mild peak distortion found on many piano recordings
of this era, this proved a most enjoyable project in every way. A highly recommended recording!
BEETHOVEN Piano Concerto No. 4

Friedrich Wührer, piano
Bamberg Symphony Orchestra
conducted by Jonel Perlea
Recorded 12-13 September, 1957
Issued as Vox LP PL 10640 in 1958

Transfer and XR remastering by Andrew Rose, January 2009
Cover artwork based on a photograph of Friedrich Wührer

Total duration: 33:05