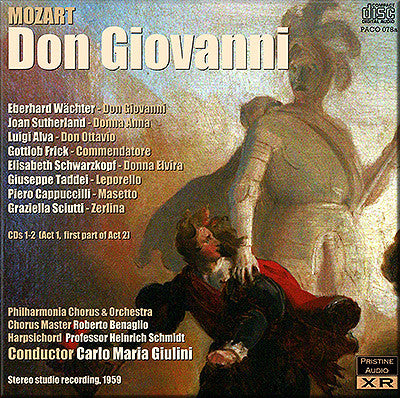 This album is included in the following set
s

:
This set contains the following album
s

:
Producer's Note
Full Cast Listing
Cover Art
Historic Fanfare Review
"Without question one of the supreme recordings of the twentieth century"
Sounding better than ever before in this new transfer and XR remastering
With this recording apparently out of print (except for MP3 copies of the 2002 EMI reissue, I mistakenly thought - being unaware of another, 2009 EMI reissue on CD!), I was delighted to find that a set of near-mint HMV LPs delivered superb sound quality for remastering purposes. The discs themselves played slightly sharper than electrical readings suggest was the true pitch sung - and has thus been corrected from 448Hz to 442.6Hz.
Other than that I've sought to bring greater clarity and accuracy to the sound through 32-bit XR remastering, which has revealed truly superb sound quality from start to finish of this timeless recording.
Andrew Rose

MOZART Don Giovanni
Recorded 7-15 October 1959
Abbey Road Studios, London
Transfers from HMV Box SLS 5083
Cat Nos. ASD 3349-51

THE CAST
Eberhard Wächter (baritone) - Don Giovanni
Joan Sutherland (soprano) - Donna Anna
Luigi Alva (tenor) - Don Ottavio
Gottlob Frick (bass) - Commendatore
Elisabeth Schwarzkopf (soprano) - Donna Elvira
Giuseppe Taddei (baritone) - Leporello
Piero Cappuccilli (baritone) - Masetto
Graziella Sciutti (soprano) - Zerlina


Philharmonia Orchestra & Chorus
Chorus Master Roberto Benaglio
Harpsichord Professor Heinrich Schmidt

Carlo Maria Giulini conductor
XR remastering by Andrew Rose at Pristine Audio, June 2012
Cover art: "Don Juan and the statue of the Commander" (detail) - Alexandre-Évariste Fragonard, oil on canvas, circa 1830-1835
Total duration: 2hr 42min


EMI CD REISSUE, 2002

It seems incredible now that Carlo Maria Giulini was the third choice of conductor for this famed recording. First choice was Beecham, and when that fell through, Walter Legge, the producer, engaged Klemperer, who, though weakened by illnesses and accidents, began working on the recording, only to withdraw after three days because of pericarditis. Legge sent an SOS to the then relatively unknown Giulini, who responded positively, though, as the booklet tells us, with some trepidation. The rest is indeed history, as the whole ensemble proceeded to work like a dream, and produce what in this case is without question one of the supreme recordings of the twentieth century, and will surely never be surpassed on disc.
Credit must go to Legge for two things in particular; firstly for assembling the peerless cast, and secondly for overseeing the technical aspects so faultlessly. The beauty of the singers is that, as befits the nature of the opera, they were either young (Alva, Wächter, Sutherland and Cappuccilli in their thirties, Sciutti in her twenties) or in their absolute vocal and dramatic prime (Schwarzkopf, Taddei and Frick). Giulini himself was just 45, and the whole project has a dynamism and wicked sense of humour that could only be obtained with a team possessing this blend of talent, comparative youth and experience.
To anyone who knows her only in 19th century Italian repertoire, Sutherland is a revelation here. She sings Donna Anna's arias with rare delicacy and elegance, plus the expected technical brilliance, while Schwarzkopf is simply perfection as Donna Elvira, transforming her from what can sometimes be a mournful nag into a woman of great dignity and strength of character. The young Sciutti was an inspired choice as Zerlina, giving her a delightfully disingenuous quality that is as endearing as it is entertaining.
The men are equally good; Wächter was an exceptional Don, and in his vocal colouring contrives to reflect brilliantly all the different ways the character presents himself to those he wishes to manipulate, be they male or female. Alva makes an appropriately sweet-toned and rather deadpan Don Ottavio (though he is a touch rhythmically slack in places), and Cappuccilli makes an hilarious Masetto, aflame with righteous indignation and sexual jealousy. Frick is in his best cavernous voice as the Commendatore, reminding us of the great recorded Hagen he was to become soon after this.
A cast 'to die for', then, no doubt about that. Yet there are plenty of opera sets that fail to ignite despite the starriest of line-ups. It's the pacing of the whole thing that is so superb, and here the continuo player, Heinrich Schmidt, makes a huge contribution. He gets the passages of recitativo secco bowling along at a terrific rate, emphasising the knockabout humour. In particular, the exchanges between Don Giovanni and Leporello are outstanding, the master's twitting of the servant having, for modern ears, unmistakable echoes of Blackadder and Baldrick.
The orchestral playing is what finally lifts the performance to the sublime level it achieves. Giulini draws the most sensitive, stylish and dramatically aware playing from the Philharmonia, especially from the strings, who produce a warmth and beauty of tone that is very special. This serves to underline how this opera came to mean so very much – arguably more than any other 18th century stage work – to the Romantics of the 19th century.
The recording captures all of this faithfully, with a balance that manages to make the singers sound just a little larger than life without losing the correct perspective. One of the greatest musical and dramatic experiences available on disc, then, and one that I personally will always treasure.
Gwyn Parry-Jones, MusicWeb International December 2002
MusicWeb International Review
The now celebrated Pristine Audio XR re-mastering treatment by Andrew Rose has rendered it superlative: warm, clear and spacious.
Although previous issues going back to 1987 are fine, EMI managed to botch its 2002 re-mastering of this famous recording in their Great Recordings of the Century series, which is muffled, with all the upper frequencies removed. I found a very acceptable alternative in an issue on the Alto label which retains a little background hiss but no more than I would expect from a 1959 recording transferred from LPs, the very occasional click being in evidence. However, this Pristine transfer from clean LPs is now easily the best option: some slight sharpness in the LPs has been corrected, all clicks removed and the now celebrated Pristine Audio XR re-mastering treatment by Andrew Rose has rendered it superlative: warm, clear and spacious. The original EMI engineering was in any case always very good indeed.
 
For all its fame and excellence, there are reasons to deny this account the epithet "perfect" - but a heck of a lot is very right indeed, starting with Giulini's magisterial direction, which is sprung, flexible and subtle, with none of the excessive leisureliness which sometimes afflicted his later conducting. The Philharmonia Orchestra is simply wonderful.
 
The cast is superb, though I have reservations about a couple of things, starting with Taddei's tendency to ham it up too much with some nasal affectations and barking to accentuate things that are already intrinsically funny and are better delivered in a sly rather than a histrionic manner. He also loses tonal quality too often, such as in an ugly sustained D on "maestosa". Nonetheless, he is a good foil to Wächter's silky Don in their quick-fire exchanges, despite their voices being too similar in recitative if you are used to a bass such as Siepi or Ghiaurov as the Don. Wächter is aggressive, driven and able to signal that he is deliberately and cynically turning on the seductive charm to further his sex addiction. Many will welcome a baritone Don as more appropriate both to the tessitura of the music and the character of opera's favourite roué.
 
Sutherland's Donna Anna is a surprise and simply the best on record: agile, huge and gorgeous of tone and even well characterised in so far as it is possible to enliven such a starchy soul. The contrast with Schwarzkopf's febrile Elvira is telling; she had already been singing this role for a decade and it suited her voice and talents ideally. Luigi Alva sings with both more beauty of line and steel in his tone than I had remembered. Sciutti is average as Zerlina, Cappuccilli hectoring as Masetto and the great Gottlob Frick very unsteady indeed in the opening scene - but he warms up nicely for an appropriately chilling and sepulchral Commendatore in the crucial final showdown.

As is normally the case with Pristine, there is little in the booklet apart from the tracking cues, excerpts from a "Gramophone" review of a previous issue and a note from the engineer; otherwise one may go online for full programme notes. What is presumably a printing error on the spine of my review copies suggests that the catalogue number is 077; however, on the reverse covers, the discs themselves and the Pristine website the three discs are is listed as 078A, B and C.  

Ralph Moore