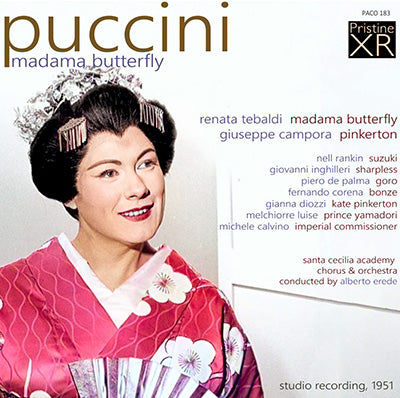 This album is included in the following set
s

:
This set contains the following album
s

:
Producer's Note
Full Track Listing
Cover Art
La Bohème , which Decca have so successfully recorded, is an opera which depends on a first-rate ensemble, but Madama Butterfly first and foremost depends on the artist who sings the name part. Let it be said at once that Renata Tebaldi is not merely a good but a great exponent of the part. She is by far the best Butterfly I have heard since Destinn, than which there can be no higher praise. As in Decca's Bohème there is not a weak member of the cast and the opera has been produced with the same care for realistic detail. We do hear Butterfly and her relatives and friends approaching from the distance and ever coming nearer, so that the exquisite theme on the violins has its full effect; we do hear, in the last act, that Butterfly has carried her sleeping child off-stage and her high B natural reaches us pianissimo (not fortissimo as lately heard at Covent Garden!). Knocks on the door, dramatic points in this opera, are given as required by the score, and altogether there is the vivid effect of a stage performance.
The recording of the voices is remarkably good and Tebaldi's soprano comes over without distortion even at the most climatic moments. The one disappointment, as in Bohème, is the recording of the fine orchestral playing. It is not just a matter of being faint but of lacking bloom and volume. In this matter alone the old H.M.V. set is better, but so superb is Tebaldi that the recording of the orchestra soon ceased to worry me. Guiseppe Campora has a very pleasant voice and gives such a sympathetic rendering of his part that one almost forgets what a cad Pinkerton was. His phrasing and variety of tone are admirable.
Inghilleri is much better cast as Sharpless than he was as Marcel and he sings very well all through. I have heard the parts of Suzuki and Goro better characterised, but Nell Rankin and Piero de Palma, if not imaginative, are entirely adequate.
Tebaldi avoids the archness that lies in wait for singers of her part while suggesting the girlishness of Butterfly—until tragedy overwhelms her and she takes on a new stature. The passage leading up to Un bel di is exquisitely done, the artist showing here, as in the last cadence of the Flower Duet, the section of the love-duet beginning Vogliatemi bene (with violin solo) and the lullaby in the last act that she has a real command of mezza-voce: and she sings Un bel di naturally and without any straining after effect. There is no sense of strain in the aria Che tu madre, which tries many artists, but real drama with a generous pouring out of the voice, as again in the wonderful passage after the canon shot in the harbour. In the final tragic scene, which is almost unbearably poignant, Tebaldi drew tears from this apparently case-hardened reviewer.
As the opera ended I felt a new admiration for a score I have always loved and much gratitude to Decca for giving us a great performance by Tebaldi and worthy ones by everyone else.
It should be noted that Erede, while insisting on the faithful observance of Puccini's directions, gives the singers that due latitude which Toscanini denied them in the recent recording of La Traviata. If succeeding operas (I eagerly await Manon Lescaut, Il Tabarro and Gianni Schicchi, to say nothing of Otello and Falstaff) can be as well cast and produced as La Bohème and Madama Butterfly then the outlook is favourable indeed.
A. R., The Gramophone, Feburary 1952
Following the success and critical acclaim given to our XR-remastered 1950's studio opera recordings featuring Maria Callas, it seems only natural that we also turn our attention to her great "rival", and thus the classic Decca recordings of Renate Tebaldi. Decca were generally regarded as producing the better sounding recordings of the day, and certainly their operatic output by the end of the decade was in a class of its own.
But at the start of the 1950s, a time when recordings were still being made for 78rpm release as well as LP, and recording tape was still very much an infant technology, things were not quite there yet. This is where Pristine's XR remastering can make a huge difference to the sound quality over regular transfers as heard on the various issues available elsewhere.
Earlier this year we began this series with La Bohème (PACO179), the first of two operas recorded in Rome in July 1951 - this Madama Butterfly was the second production of that summer, keeping the same production team, orchestra, conductor and star and carrying over some of the cast. Thus was a pattern set for Tebladi and Decca, who returned the following summer to record two more operas, and would continue to do so for several of the years that followed - albeit not in 1953, and not always in leading roles.
Madama Butterfly was the first of Renata Tebaldi's Decca recordings to be remade in stereo, a mere seven years after this production, with a different cast and conductor. Opinions will of course differ as two which is the better performance - we hope that the sonic upgrade offered here by this Pristine XR remaster will at help the earlier recording stand alongside the  audio standards of the later version, albeit with Ambient Stereo rather than full stereo reproduction.
Andrew Rose

PUCCINI Madama Butterfly
CD One
ACT ONE
1. E soffitto...e pareti  (2:16)
2. Questa è la cameriera  (4:01)
3. Dovunque al mondo  (3:32)
4. Quale amania vi prende!  (3:30)
5. Ah! Ah! quanto cielo!  (3:13)
6. Gran ventura  (3:39)
7. L'imperial Commissario  (2:13)
8. Vieni, amor mio!  (2:27)
9. Ieri son salita tutta sola  (4:27)
10. Ed eccoci in famigila  (5:29)
11. Viene la sera  (3:21)
12. Bimba dagli occhi pieni di malia  (3:12)
13. Vogliatemi bene, un bene piccolino  (6:58)

ACT TWO
14. E izaghi e Izanami  (7:09)
15. Un bel di vedremo  (4:47)


CD Two

ACT TWO continued
1. C'è Entrate  (3:12)
2. Non lo sapete insomma  (1:49)
3. A voi però giurerei fede costante  (3:17)
4. Or a noi  (5:52)
5. E questo e questo  (2:19)
6. Che tua madre dovrà  (2:52)
7. Io scendo al piano  (1:50)
8. Vespa! Rospo maledetto!  (1:49)
9. Una nave da guerra  (2:30)
10. Scuoti quella fronda di ciliegio  (4:51)
11. Or vienmi ad adornar  (4:57)
12. Coro a bocca chiusa  (2:53)
13. Oh eh! Oh eh! Oh eh!  (7:07)
14. Già il sole!  (2:03)
15. Povera Butterfly!  (2:45)
16. Io so che alle sue ...Oh! l'amara fragranza  (3:36)
17. Addio, fiorito  (1:41)
18. Gllielo dirai...Premetto  (2:01)
19. Che vuol da me  (5:07)
20. Come una mosca prigioniera  (2:42)
21. Con onor muore  (5:26)
CAST
Renata Tebaldi (soprano) - Madama Butterfly
Giuseppe Campora (tenor) - Pinkerton
Nell Rankin (mezzo-soprano) - Suzuki
Giovanni Inghilleri (baritone) - Sharpless
Piero de Palma (tenor) - Goro
Fernando Corena (bass) - Bonze
Gianna Diozzi (mezzo-soprano) - Kate Pinkerton
Melchiorre Luise (bass) - Prince Yamadori
Michele Calvino (baritone) - Imperial Commissioner
Santa Cecilia Academy Chorus & Orchestra
conducted by Alberto Erede

XR remastering by Andrew Rose

Cover artwork based on a photograph of Renata Tebaldi as Madama Butterfly
Recorded by Decca, 19-26 July 1951, Santa Cecilia, Rome, Italy
Recording producer: Victor Olof
Recording Engineer: Gil Went
First issued in January 1952 as Decca LXT.2638-40

CD1: 63:25 - CD2: 67:27

Total duration:  2hr 10:52