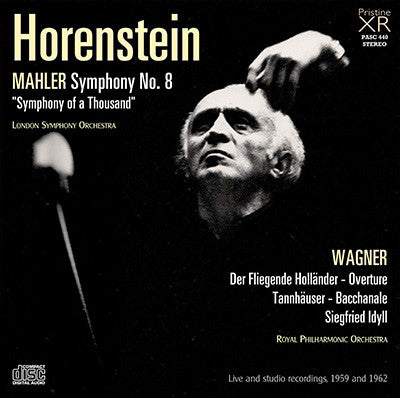 This album is included in the following set
s

:
This set contains the following album
s

:
Producer's Note
Full Track Listing
Cover Art
Horenstein's tremendous stereo Mahler 8 and Wagner in fabulous XR-remastered sound quality
"The word "classic" is sometimes applied to a recording carelessly, but not in this case. We can be nothing but grateful to Andrew Rose for his stunning remastering of this riveting performance" - Fanfare
I was urged by the conductor's cousin, Misha Horenstein, to tackle the BBC's splendid experimental stereo recording of Mahler's 8th Symphony, made with a single stereo microphone set-up in the vast, acoustically-untamed space of the Royal Albert Hall, in the hope that XR remastering might bring a greater focus and a better sense of the vastness of the forces employed.
"I can't praise it highly enough. The difference is immediate from the opening bars, where the organ hits you where it should, in the stomach, but the gain is evident throughout. This is especially true of the bass line, which now has the depth and weight missing in the [previous issue]. Your remake also compliments the vertical and horizontal spaces of the Albert Hall, bringing the sound forward as though you are sitting in better seats than before..." came the response, to which I find little to add (beyond noting the high number of coughs I had to remove!).
By contrast the Wagner, whilst derived from excellent 1962 studio recordings engineered by legendary Decca man Kenneth Wilkinson, suffered from major pitch problems in the Siegfried Idyll, which  dropped gradually from an initial A=443Hz to A=430Hz over the course of the recording, the full correction of which has only recently become technically possible. These recording, too, have benefited from the added fullness of sound brought by XR remastering that so pleased Mr. Horenstein in the Mahler.  

Andrew Rose
WAGNER  Der fliegende Holländer - Overture
WAGNER  Tannhäuser - Bacchanale
WAGNER  Siegfried Idyll
Recording producer: Charles Gerhardt
Recording Engineer: Kenneth Wilkinson
Recorded 29-30 September 1962 for Reader's Digest
Walthamstow Town Hall
Royal Philharmonic Orchestra
Jascha Horenstein, conductor

MAHLER  Symphony No. 8 in E flat Major ("Symphony of a Thousand")
Joyce Barker (sop.I) - Magna Peccatrix
Beryl Hatt (sop.II) - Mater Gloriosa
Agnes Giebel (sop.III) - Una Poenitentium
Kirsten Meyer (alt.I) - Mulier Samaritana
Helen Watts (alt.II) - Maria Aegyptiaca
Kenneth Neate (ten.) - Doctor Marianus
Alfred Orda (bar.) - Pater Ecstaticus
Arnold van Mill (bass) - Pater Profundus
BBC Chorus; BBC Choral Society; Goldsmiths' Choral Union; Hampstead Choral Society; Emanuel School Boys' Choir; Orpington Junior Singers
Musical Associate: Berthold Goldschmidt
London Symphony Orchestra
Hugh Maguire, leader; Charles Spinks, organ

Jascha Horenstein, conductor 

Recorded for BBC broadcast, 20 March 1959, Royal Albert Hall, London
Fanfare Review
We can be nothing but grateful to Andrew Rose for his stunning remastering of this riveting performance
The word "classic" is sometimes applied to a recording carelessly, but not in this case. This performance has been praised almost universally by reviewers since it first saw the light of day on Discocorp LPs. You can read positive reviews in the Fanfare Archive by William Youngren (7:4), Benjamin Pernick (20:3), Christopher Abbott (22:6), and me (22:5), and I included it on my 1999 Want List. The BBC Legends release in 1999 seemed to be the last word, since it derived from the BBC's own master tape. The original broadcast was in stereo (single microphone stereo, one must note), and while there are some balance problems (some soloists are too distant), the overall sound was quite satisfying. So what could Pristine offer that would improve on that?
The surprising answer is: quite a bit! Pristine's XR remastering has opened up the soundstage considerably, and the result is a very meaningful improvement even over the BBC Legends release in terms of clarity, impact, and firmness and focus of the bass line. There is a sense of space around the performance that did not exist before; the sound is akin to sitting mid-balcony in a good hall. Those who have admired this recording and felt satisfied with the BBC Legends version are urged to reinvest.
I will not take a lot of space here describing the merits of the performance, as interested readers can look up any of the prior reviews for more detail. Briefly, what Horenstein manages in this performance is what appears to be the perfect balance between spontaneous propulsion and intense drama on the one hand, and a firm sense of organizational structure on the other. Moment-to-moment dramatic impact is never slighted, but there is a sense of inevitability about the direction of the performance so that it is always headed somewhere. Horenstein judges tempo relationships perfectly, and makes his transitions of tempo almost imperceptible as they are happening. That is one of the major ingredients of a performance that flows. The other is appropriate relationships of dynamic variations, and again Horenstein hits his mark. The opening "Veni Creator Spiritus" has great power, but there is enough held back for the development of an 80-minute journey, and a final climax of immense weight and almost unbelievable fervor and intensity.
The soloists are all adequate or better, and the choral and orchestral forces perform with remarkable effectiveness given that this is not only an unedited live performance, but that they all had to learn the work for the event. Yes, there the momentary instrumental bobbles and ensemble lapses, but they are remarkably few and far between. There are rare performances that even when heard years or decades after they occurred still have about them a genuine sense of occasion. This is one of those. It is as if everyone—performers, conductor, and audience—were making a spectacular discovery at the same time. And we have the ability to relive it, complete with the unison roar of the usually staid English audience at the end.
The Wagner excerpts were originally recorded for the Readers' Digest label, and reissued (coupled with a powerful Brahms First Symphony) on Chesky. I don't have the Chesky at hand for comparison. Andrew Rose claims that the original version of Siegfried Idyll dropped in pitch gradually, and I do not know whether Chesky corrected it. But it is fine here, and the sound of these 1962 studio recordings is warm and full. Horenstein's way with Wagner is similar to his Mahler: a superb balance between impulsiveness and structure, along with genuine beauty in the lyrical passages.
Minimal notes, and no texts, as is typical of Pristine—but we can be nothing but grateful to Andrew Rose for his stunning remastering of this riveting performance.
Henry Fogel
This article originally appeared in Issue 39:1 (Sept/Oct 2015) of Fanfare Magazine.