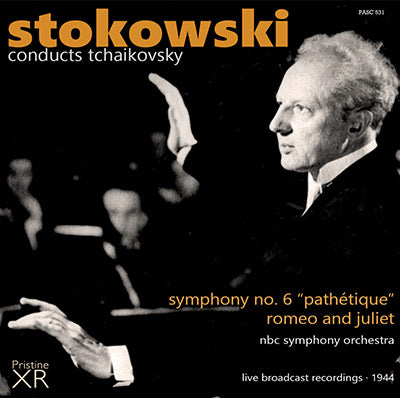 This album is included in the following set
s

:
This set contains the following album
s

:
Producer's Note
Full Track Listing
Cover Art
Sleevenotes
These two 1944 recordings continue to astound me weeks after I first heard them. Culled from the same source which provided us with Stokowski's 1942 Shostakovich "Leningrad" Symphony (PASC527) they again confound expectations as to what a recording of this vintage should sound like.
Here we find Stokowski conducting the brilliant NBC Symphony Orchestra in stunning renditions of Tchaikovsky's 6th Symphony and Romeo and Juliet fantasy overture - made all the more so by the frankly incredible sound quality of the recordings. At times, stereo aside, one might be forgiven for thinking some of these recordings had been made last week, rather than nearly three-quarters of a century ago.
Naturally they weren't originally quite this good. Pitch jumps in the symphony had to be corrected, clicks and scratches evened out, and Pristine's XR remastering system employed to accurately re-equalise the sound and bring out the full glory of the NBC orchestra.
With a full frequency range, exceptionally quiet sides allowing an extraordinarily wide dynamic range, and very little in the way of other flaws or audience noise to get in the way of the listening experience, one is almost immediately drawn into the performances - and they are white hot, as Edward Johnson's excellent sleevenotes explain.
Andrew Rose
STOKOWSKI conducts Tchaikovsky


1. TCHAIKOVSKY Romeo and Juliet - Fantasy Overture  (20:34)

TCHAIKOVSKY  Symphony No. 6 in B minor, Op. 74 "Pathétique"
2. 1st mvt. - Adagio - Allegro non troppo  (19:39)
3. 2nd mvt. - Allegro con grazia  (8:04)
4. 3rd mvt. - Allegro molto vivace  (8:20)
5. 4th mvt. - Adagio lamentoso  (10:52)

NBC Symphony Orchestra
conducted by Leopold Stokowski
Total duration:  67:29   

XR remastering by Andrew Rose
Cover artwork based on a photograph of Stokowski

Tchaikovsky Romeo & Juliet
Broadcast of 16 January 1944

Tchaikovsky Symphony No. 6
Broadcast of 30 January 1944

Live broadcast concerts from RCA Studio 8H, Radio City, New York City

Total duration:  67:29   


In the spring of 1941, for a great many reasons, Toscanini decided not to renew his contract for the NBC Symphony's winter season. However, he did leave the door open for an eventual return to the orchestra that had been specially created for him, so plans were duly set in motion for its continuation.
At that time, Stokowski was reaching a wide public outside the concert hall with his appearance in Walt Disney's "Fantasia." His long tenure with the Philadelphia Orchestra had come to an end and his formation in 1940 of the short-lived All-American Youth Orchestra kept him busy during the summers. This left him free for the winter periods, so he was duly engaged to conduct the NBC Symphony on a three-year contract, commencing with the 1941-42 season.
Among Stokowski's many interests was a study of acoustics and he soon recommended the installation of diffusers and reflectors in the notoriously dead-sounding Studio 8-H. Time magazine reported the delight of audience and critics alike, adding that "the reverberations were all they should be; radio's biggest concert hall had at last become musicianly." Stokowski was also a great champion of modern music and it was once estimated that over a 60-year conducting career he'd given around 2,000 "first performances" of one sort or another. His three NBC seasons typified his advocacy of new music, particularly of works by American composers.
However, Stokowski didn't neglect the classics and Tchaikovsky was high on the list of past composers whose music he loved to perform. Indeed, the 'March' from the "Pathetique" Symphony, acting as a kind of 'overture', was the first item on his conducting debut programme with the Colonne Orchestra in Paris in 1909.
His move to Philadelphia in 1912 saw Stokowski turning the city's orchestra into one of the world's finest and when he began making acoustic 78s, several Tchaikovsky numbers, including the "Pathetique" 'March,' were duly inscribed on disc (PASC 441). With the advent of electrical recording, Stokowski made the first American 78s of various Tchaikovsky works, including "Romeo and Juliet" in 1928. It is clear that he'd read in Modest Tchaikovsky's "Life and Letters" a complaint from Balakirev that the loud accentuated chords at the end were "inartistic." Modest adds that in his final version, Tchaikovsky "omitted these chords himself" but as no such edition has ever been published - and there were already three different versions of the work - Stokowski provided a 'quiet ending' of his own!
It remains only to note that Toscanini soon recovered from the malaise that had affected him and returned as Stokowski's NBC co-conductor for the remaining two seasons of the latter's contract. David Hall's comment that "the most spectacular combination of performance and programming were the two Toscanini-Stokowski seasons" is born out in the surviving recordings of their broadcasts. For his part, as will be heard in these Tchaikovsky works, Stokowski's readings took on the kind of white-hot, whiplash intensity - string portamentos notwithstanding!- that characterised Toscanini's performances, whilst in turn, the great Italian maestro programmed more American works during his co-conductorship with Stokowski than at any other time during his own long career. It does rather look as if these two great maestros, although quite different in so many ways, came under each other's considerable influence during those two legendary NBC seasons.
Edward Johnson