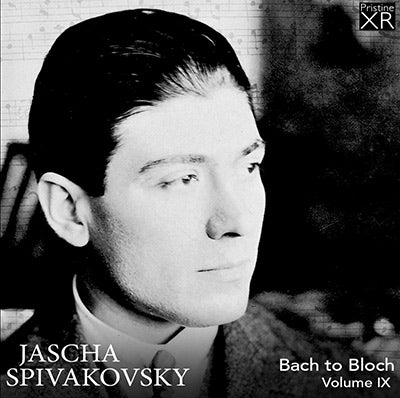 This album is included in the following set
s

:
This set contains the following album
s

:
Producer's Note
Full Track Listing
Cover Art
This 9th volume of private recordings of the great Russian pianist Jascha Spivakovsky features the artist playing a wide range of repertoire, from Bach through to Spivakovsky's contemporaries. As in previous releases, the listener can marvel at the glorious pianism of a musician who left behind no commercial solo discs and who is today enjoying worldwide appreciation by a new generation of piano fans.
This compilation opens with a live recording of Gavottes I & II from Bach's English Suite No.3, an encore at a 1961 concert that took place shortly after Spivakovsky's release from hospital (the same week as the Beethoven Concerto No.4 from Volume 7 and the same concert as the Bach-Busoni D Minor Concerto from a future release). Jascha plays with his trademark rhythmic vitality and clarity of voicing in a reading that also showcases his beautiful tone and fluid phrasing.
The centrepiece of this disc is a stirring account of Brahms' titanic Sonata No.3 in F Minor, a key work in Spivakovsky's repertoire. The second movement was one of his favourite works in the entire piano literature, which might easily be surmised when listening to his poetic reading: time stands still with his magical pacing and sumptuous phrasing. The entire performance is grandly conceived, his noble approach never tipping into the bombast often heard in the work, thanks to his lyrical phrasing and transparent textures.
Unfortunately, the final moments of the last movement were missing from the tape that the ABC provided the pianist of the 1953 broadcast. After much deliberation as to whether issue an incomplete recording or not release it at all, it was decided that Jascha's son Michael would coach a skilled student on how his father played these passages so as to complete the performance - a small price to pay to be able to enjoy such a glorious account of this masterpiece by this great artist.

A series of shorter works enable us to appreciate Spivakovsky's tremendous versatility and masterful music-making. His account of Mendelssohn's Venetian Gondola Song is characterized by its fluid melodic line and emotive timing, while Glazunov's rarely-played Gavotte in D Major is notable for its rhythmic buoyancy, deft articulation, and poised voicing. Debussy's Dr. Gradus ad Parnassum features beautiful textures and attentive shaping, while Rachmaninoff's Prelude in G Major has a soaring singing line and rich rubato. A fascinating rarity are two works by Norwegian composer Harald Saeverud (the first was dedicated to Jascha) that capture to perfection the pianist's gorgeous tonal palette and masterful pedal technique.
Kabelevsky's Sonata No.3 is presented here in a mid-1950s BBC broadcast (a later home recording was issued in Vol.1 of this series): this magnificent interpretation is both refined and impassioned, Spivakovsky's tonal colours and subtle timing highlighting the dramatic nature of the work. To close, we have Liadov's Musical Snuff Box (with the spoken announcement to this encore concert performance by Jascha himself), played with glistening tonal and pedal effects - a delightful conclusion to yet another revealing collection of marvellous performances by the great Jascha Spivakovsky.
Mark Ainley
SPIVAKOVSKY Bach to Bloch, Volume 9

BACH  English Suite No. 3 in G minor, BWV 808
1. V. Gavotte I  (1:23)
2. VI. Gavotte II (ou La  Musette) and da capo  (1:42)
Recorded: in concert, 1961

BRAHMS  Piano Sonata No. 3 in F minor, Op. 5
3. 1st mvt. - Allegro maestoso  (7:58)
4. 2nd mvt. - Andante espressivo  (12:31)
5. 3rd mvt. - Scherzo. Allegro energico - Trio  (4:26)
6. 4th mvt. - Intermezzo. Andante molto  (3:26)
7. 5th mvt. - Finale. Allegro moderato ma rubato  (8:16)
Recorded: ABC, 1953

8. MENDELSSOHN Songs Without Words, Op 30, No 6 - Venetian Gondola Song  (3:26)
Recorded: on Spivakovsky's own Steinway, c.1964

9. GLAZUNOV 3 Morceaux, Op 49 - 3. Gavotte  (4:44)
Recorded:ABC, c.1955

10. DEBUSSY Children's Corner - 1. Dr Gradus ad Parnassum  (2:06)
Recorded: on Spivakovsky's own Blüthner, 1961|

11.  RACHMANINOV  Preludes Op 32 - 5. Moderato  (3:26)
Recorded: on Spivakovsky's own Blüthner, 1961

12. SAEVERUD Lette Stykker Vol. 1, Op 14 - 7. Rondo amoroso  (3:34)
13. SAEVERUD Lette Stykker Vol. 2, Op 18 - 2. Smafulg-vals (Little Bird Waltz)  (2:39)
Recorded: BBC, c.1953/4

KABALEVSKY  Piano Sonata No. 9 in F Major, Op. 46
14. 1st mvt. - Andante con moto  (5:59)
15. 2nd mvt. - Andante cantabile  (5:19)
16. 3rd mvt. - Allegro giocoso  (4:42)
Recorded: BBC, c.1953/4

17. LIADOV The Musical Snuff Box, Op. 32  (2:32)
Recorded: NZBC, c.1955



Jascha Spivakovsky, piano
© and (P) 2019 Pristine Audio & The Spivakovsky Jubilee
XR remastered by Andrew Rose
Total duration: 78:09